7 Royal Accessories That Send a Hidden Message Not Everyone Knows
When it comes to royal fashion, the choice of accessories is never random. Bags, earrings, and necklaces not only match the outfits of the royals, but they're often rich in significance. From Princess Diana who wore a necklace on her head to Princess Beatrice who sent a message to teenagers with her handbag, the world of royal accessories is full of hidden meanings. We learned of the stories behind 7 accessories the members of the royal family wore, and we're ready to tell you about their deeper meaning.
Princess Diana's necklace that she once wore as a headband
Princess Diana was a real rebel when it came to royal fashion, and many of her outfit choices were very bold for a princess. In 1985 Diana broke the royal dressing rules when she wore the heirloom necklace of the royal family as a headband for an event in Melbourne, Australia. The emerald choker once belonged to Queen Mary and was part of the Crown Jewels.
It's still not clear, however, whether that move of Diana's was actually intentional. There's a theory that, in a rush, Diana tried to put on the necklace over her head, and when it got stuck on her forehead she decided to leave it that way.
Princess Diana's wedding tiara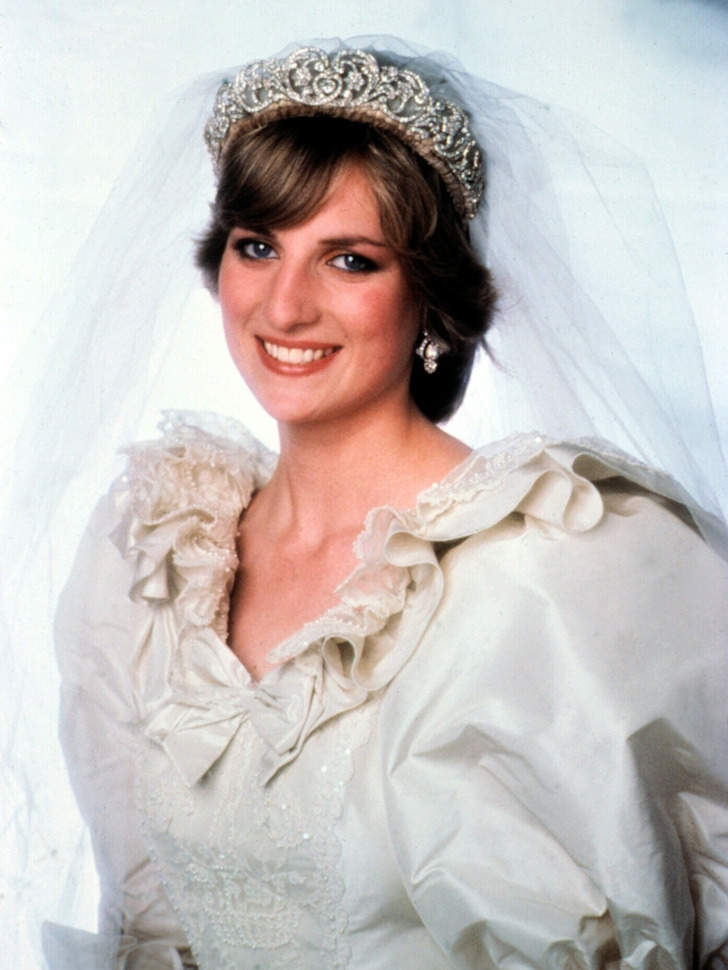 Courtesy Everett Collection/East News
The tiara that crowned Princess Diana's head during the wedding ceremony was not a gift from the royal family, but it was actually her own family heirloom. The diamond tiara belonged to the Spencer family for almost a century, and it was made out of several pieces of jewelry that got into the hands of Diana's family in different periods of history.
After the wedding ceremony, Diana wore the Spencer tiara on several occasions, and after her death in 1997, the tiara was returned to Diana's family where it remains to this day. In 2018, Diana's niece, Celia McCorquodale, wore the Spencer tiara to her wedding ceremony.
Kate Middleton's wedding earrings
Just like Princess Diana, on her wedding day, Kate Middleton wore something that paid tribute to her family traditions. Kate's wedding earrings were a gift from her parents. The diamond earrings are shaped like oak leaves with diamond acorns suspended in the center. Why acorns? The design of the earrings hints at the Middleton family's coat of arms that has 3 acorns representing 3 siblings — Catherine, Philippa, and James. Oaks are trees common in England, and they also symbolize strength.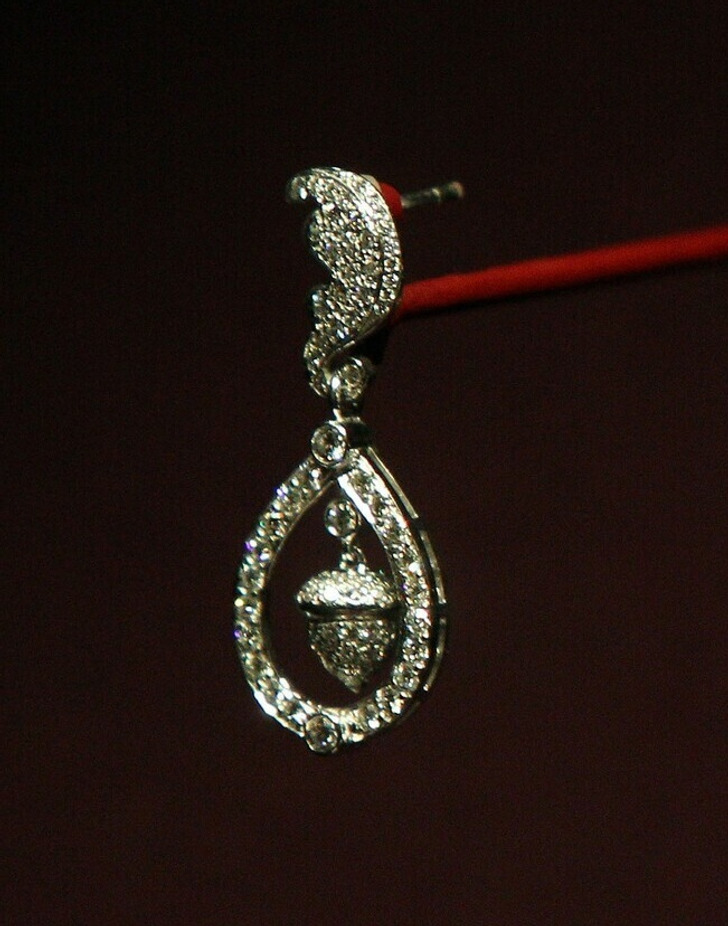 Princess Diana's "cleavage bags"
Princess Diana's little clutch bags were there not only to hold her lipstick, but they served a much more important purpose. Diana used these bags to cover her cleavage when she was stepping out of cars. As one of the most photographed women in the world, she knew what poses were unwanted from a royal family member. That's why she'd always carry a little purse when she was wearing low-cut dresses and gracefully shielded her cleavage with them. How smart and charming is that little fashion trick?
Meghan Markle's wedding bouquet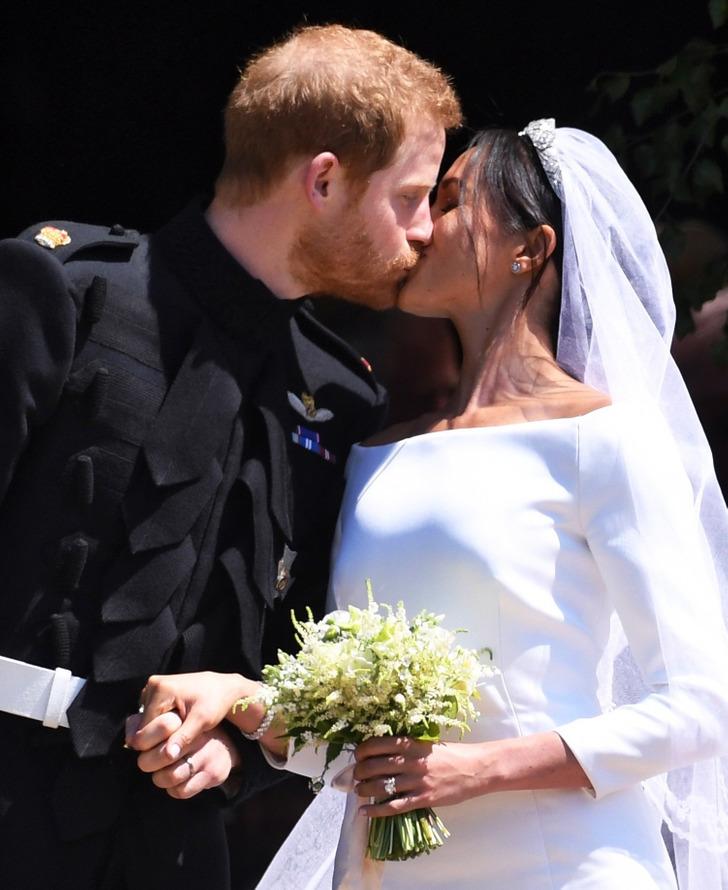 Meghan's wedding bouquet was small but heavy with significance. It was comprised of different flowers, like scented sweet peas, lily of the valley, and jasmine, and included several flowers that Prince Harry picked for his fiancé in the garden at Kensington Palace. The bouquet also paid a subtle tribute to Princess Diana with a few forget-me-nots, which were her favorite flowers.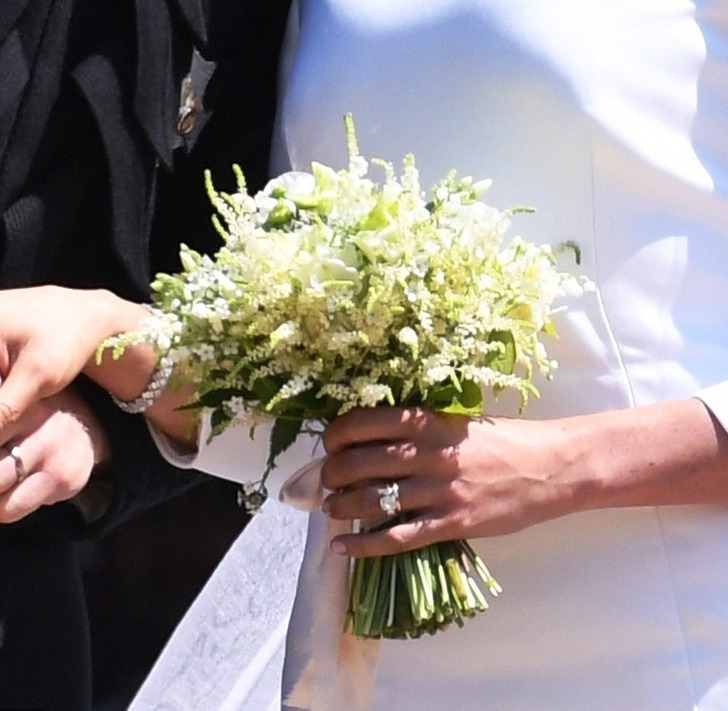 Princess Beatrice's handbag with a meaningful message
Princess Beatrice has a couple of laconic handbags with the slogan, "Be Cool Be Nice," embroidered on the front. This phrase is actually a nod to the anti-bullying campaign the Princess helped to promote. This campaign advocates kindness, respect, and good manners in interactions and is mainly aimed at supporting teenagers who suffer from bullying.
When asked why she decided to support this campaign, Beatrice confessed that this decision comes from her own personal experience and that she's been criticized for many things from a young age. "My experience was about growing up and living a very public life and living in an overexposed environment. So that's from being 18 and struggling with your weight to what fashion choices you are wearing," said Beatrice.
Queen Elizabeth II and her "Granny's Chips"
Queen Elizabeth II wore this brooch on her Diamond Jubilee celebrations. This piece of jewelry consists of 2 diamonds, which the royal family affectionately called "Granny's Chips." According to some experts, the Queen put on this brooch as a symbol of an unbreakable bond with her grandmother, Queen Mary, from whom she received it.
Did you know these accessories of the royals had hidden meanings? Which of the facts we've just shared with you surprised you the most?
Preview photo credit East News