How Julia Roberts Dared to Call Off Her Wedding Following Her Heart, Found Her Destiny, and Is Now Happier Than Ever
Weddings are always emotional events, making future spouses nervous and hesitant. Think of Carrie Bradshaw, who was overcome by nausea at the sight of her engagement ring and broke out in a rash after trying on her wedding dress. But the image that gave birth to a cliché was that of Julia Roberts' character in Runaway Bride, who kept leaving her fiancés at the altar until she met "the one." This role turned out to be not at all unfamiliar to the actress. Julia herself called off her wedding to actor Kiefer Sutherland at the very last moment, showing how important it is to listen to your heart before making such a huge commitment.
"Pretty Woman" and her fans
Julia Roberts and Dylan McDermott in 1989
By the time Kiefer Sutherland and Julia Roberts met, she was already a successful actress and in a relationship with her on-screen partner in Steel Magnolias, Dylan McDermott. The pair were even engaged, but fate had something else in store for them, and in 1990, after a two-year relationship, they parted ways.
Sutherland and Roberts' romance began during the filming of Flatliners in 1990. The romance between the on-screen characters developed into a real-life relationship. At the time, the actor was still going through the divorce proceedings with Camelia Kath. The relationship developed so rapidly that news of the couple's engagement soon emerged, quickly followed by wedding plans after only a year of their relationship.
Tabloids followed the preparations for the celebration, dubbing it the "Wedding of the decade," continuously talking about the location of the planned ceremony, which had been decorated to look no less than a "gardenlike paradise," the cost of the wedding dress, the food, and the number of guests. The pressure on the couple was growing by the day.
A called-off wedding
Neither Roberts nor Sutherland showed up for the ceremony on the scheduled date. The actress later shared this about her decision in an interview: "This is my life. I get to do it one time. And this is a decision I made for me. I have saved my life by doing this. And that's all in the end that had to concern me." Roberts admitted that she was going to be the first to tell Sutherland that they're better off not getting married. She tried to talk to him; his reaction was rough, but he suddenly agreed with her.
The actors then released a joint statement canceling the wedding, but journalists were quick to blame it all on Roberts, who had gone to Ireland with Jason Patric, Sutherland's best friend. Headlines were teeming with reports of Roberts having run away, which couldn't have been more upsetting for her.
Despite the high-profile articles about Sutherland being dumped, Julia received tons of support: "It was sort of an outpouring of kindness, people saying, 'Hang in there.'." Roberts' actions, like those of her character in Runaway Bride, showed people around the world that it's not so scary to change your mind before the wedding. What's scary is to spend your life in a failed marriage, effectively ruining it, not just for yourself but also for your partner.
Sutherland later admitted that what Julia did was very brave and that she'd made the right decision: "I commend Julia for seeing how young and silly we were, even at the last minute, even as painful and as difficult as it was. Thank God she saw it."
A happy family life with Daniel Richard Moder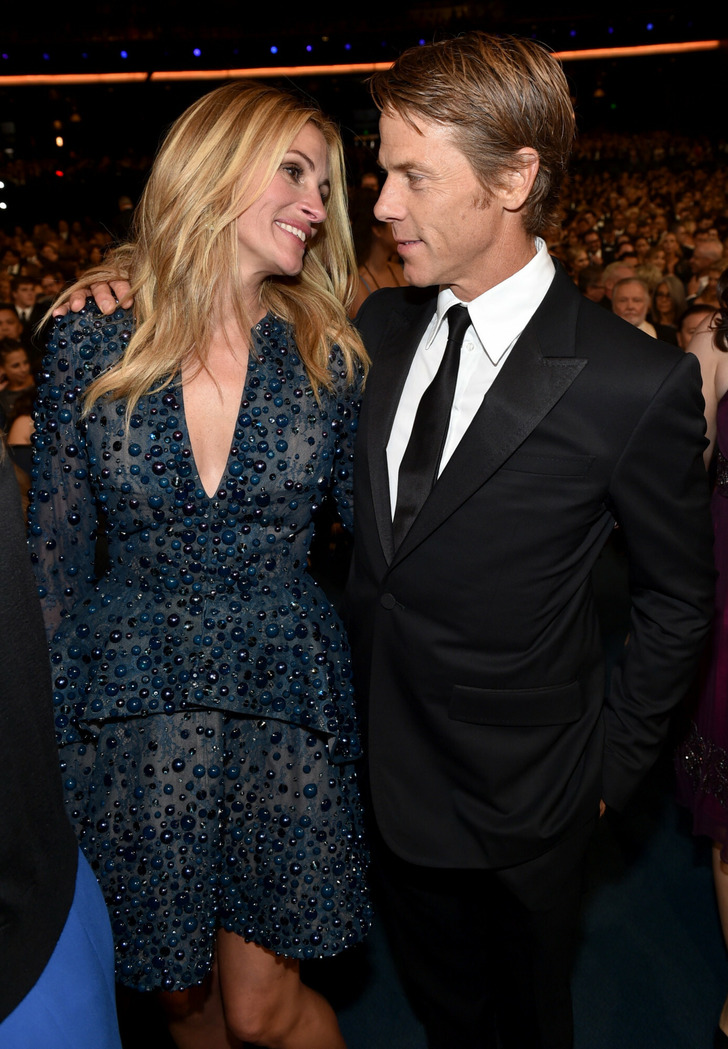 John Shearer / Invision / AP / East News
Julia didn't close herself off and continued looking for love until she met her soulmate, cameraman Daniel Moder, in 2000. This happened on the set of the film The Mexican.
Roberts made a touching confession in an interview that no one had ever made her feel the way Daniel does, comparing their meeting to the elements: "I think that first kind of real 'seismic shift' was meeting Danny. Getting married to Danny. That was the first, like, my life will never be the same in the most incredible, indescribable way."
Now Julia is not only a successful Oscar-winning actress but also a loving wife and caring mother. Together with Moder, they're raising three children: the twins are 18 years old and their youngest son is 15. According to the actress, she experiences true happiness in those moments when she comes home at the end of the day to her family. Julia is very reluctant to share the details of her personal life with reporters, occasionally posting family photos on social media. And this is understandable, given the unfortunate experience of tabloid interference and their milking of the story of a failed wedding.
Which are the signs that can help you distinguish between the usual pre-wedding jitters and the foreboding feeling that this person is not for you and it's best to call it all off?
Cheery
/
People
/
How Julia Roberts Dared to Call Off Her Wedding Following Her Heart, Found Her Destiny, and Is Now Happier Than Ever