Kate Hudson Is Raising Three Children From Different Fathers, and She Definitely Knows the Secret to Successful Co-Parenting
It can be difficult for parents to raise a child together after a separation. But Kate Hudson is proving, by her own example, that it's doable. The actress has three children from different fathers and has managed to recognize the importance of co-parenting and maintaining a good relationship with her former partners.
Kate Hudson has two sons and one daughter, all from different fathers.
In 2000, Kate married musician, Chris Robinson. They had a son in 2004 and divorced a few years later, gaining joint custody of the boy. In 2011, Hudson got engaged to musician Matt Bellamy, and they had a son the same year. They later called off their engagement but remained on good terms.
Kate has been dating musician and actor Danny Fujikawa since 2016. They had a daughter in 2018 and announced their engagement in 2021.
Kate decided to co-parent with her ex-fiancé.
Kate has publicly revealed her reasons for the breakup with Matt Bellamy, father of her second son, Bingham. As the actress explained, they decided to move on because they had different outlooks on life.
However, the former partners did manage to reach an understanding when it came to parenting. Matt uttered a phrase to Kate, that she immediately loved: "I just want to make sure that Bing feels like he's gaining something, not losing something." And that statement became a real credo for their family.
Her approach to parenthood was influenced by her own childhood experiences.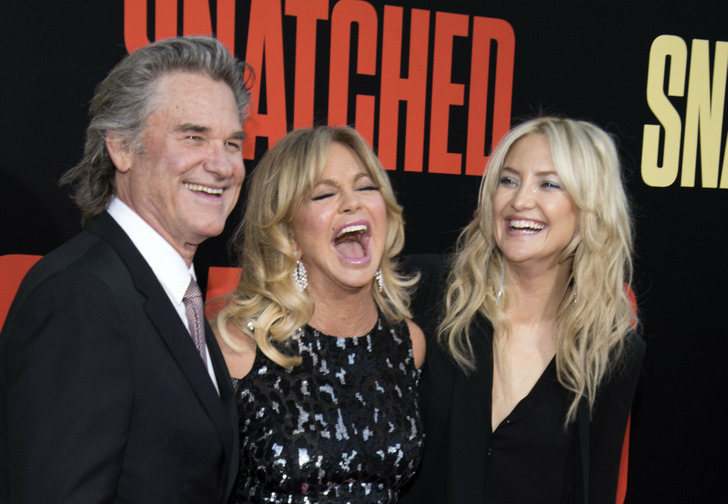 Kate was brought up by her mother and stepfather, but she had no relationship with her father. Hudson appreciates her family, but she still feels it's a problem that she didn't know her father. In many ways, it was her own experience that helped the actress understand how important it is for both parents to be there for the child and to surround them with love.
Kate noted the benefits of co-parenting.
Kate believes that co-parenting has brought her closer to her fiancé Danny, and her ex-partner Matt and his wife Elle. A strong relationship is important because they all have to believe they're protecting each other. "The unit that I've created with three children with three different fathers is a seriously strong unit, and it's ours," said the actress.
Hudson and the fathers of her children get together for important family events.
It seems, Kate does a great job at maintaining a good relationship with her former partners. For example, they like to spend the holidays together. For Christmas 2015, Hudson posted a photo with Matt, captioning it, "From our #ModernFamily to your #WhateverKindaFamilyIsYourKindaFamily we send you much love and blessings on this Christmas Eve."
In 2022, Kate celebrated Easter with her fiancé, her children, Matt, his current wife, and their daughter.
In summer, her eldest son graduated from school. Kate shared a photo of herself with him and the boy's father, Chris Robinson.
Kate reveals the secret to successful co-parenting.
Kate believes she's unlocked the secret to successful co-parenting: "It's just you've got to drop the ego. That's it." In addition, the actress is convinced that the love she once had for her ex-partner doesn't go away completely, it just changes. So it's entirely possible to have a good time with him if you focus on your love for your child.
Hudson doesn't criticize other people's parenting methods.
Perhaps it's because Hudson's family seems unusual to others, but she has learned not to judge other parents and their parenting methods. "We all need to have an open mind and feel good about what we're doing and let other people live the way they want to live," says Kate.
What do you think about co-parenting?
Cheery
/
People
/
Kate Hudson Is Raising Three Children From Different Fathers, and She Definitely Knows the Secret to Successful Co-Parenting