31 Years Ago, Winona Ryder and Keanu Reeves Had a Wedding, and They Still Consider Themselves Married
Keanu Reeves and Winona Ryder have been friends for over three decades. They have starred together in four films, and every one of their onscreen appearances sparkles with such chemistry that fans often wonder why they're not together. What's more, in 1992, the pair even had a wedding, and still consider themselves married to each other.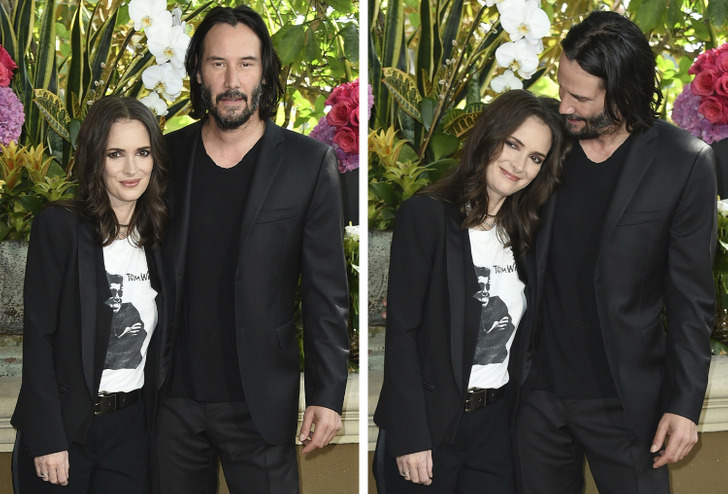 Jordan Strauss / Invision / AP / East News
,
Jordan Strauss / Invision / AP / East News
Keanu and Winona's wedding was, of course, not a classic ceremony with all their friends and family. Instead, it was with a huge film crew; this was part of a scene for the 1992 film Dracula. Except, unlike countless other movie weddings, this one was performed following all the rules, and even with a real priest. It was so accurate that 30 years later the couple quite frankly still consider themselves to be husband and wife.
"I swear to God, I think we're married in real life."
"We did a whole take of a marriage ceremony with real priests. So I guess we're married."
Naturally, this was all film's director Francis Ford Coppola's idea. He wanted maximum realism from the scene and decided that filming in a real church would achieve exactly that. According to him, having a wedding ceremony according to all the traditions is something beautiful.
It was only when filming was over that everyone suddenly realized that something very important had just happened.
"This is pretty authentic and I think very beautiful. So in a sense, when we were all done, we realized that Keanu and Winona really are married as a result of this scene and this ceremony."
Keanu and Winona's relationship is truly similar to that of a married couple's. They talk about each other with genuine warmth and tenderness and admit that they simply adore one another.
Even though the couple never officially dated, both Keanu and Winona have shared that they were in love with each other. Later, those feelings grew into a strong friendship, which helped Winona to withstand all the pressure during the filming of Dracula. One day, the actress found some diaries she was keeping at the time and came across the following entry: "Angst, angst, angst, angst, thank God for Keanu. Thank God I'm going to see Keanu."
The pair love working with each other, having appeared together in four films so far. Upon having completed the filming of their latest movie, Destination Wedding, Winona said that there's nothing in particular that's good about working with Keanu because absolutely everything is great. And Keanu himself is convinced that their on-screen chemistry is a natural result of them trusting each other completely.
Both Winona and Keanu are currently in happy relationships. Keanu is dating Alexandra Grant, a famous artist, and Winona is with fashion designer Scott MacKinlay Hahn. But they always make time for each other and it's safe to say that they've proven, by their own example, that friendship between a man and a woman does exist, even after decades of knowing each other.
Cheery
/
Films
/
31 Years Ago, Winona Ryder and Keanu Reeves Had a Wedding, and They Still Consider Themselves Married