19 Celebrities Who Got Into an Awkward Situation Because of Their Evening Dress, But Came Out of It as Queens
Beautiful dresses sometimes turn out to be uncomfortable and can cause trouble for the person wearing them at the most inappropriate moment. A strap might fall off, a zipper might fall apart, or the hem might tear off — even celebrities are not insured from such situations. But while some turn red at such moments, others find a way out with their heads held high and their smiles wide.
J.Lo's gorgeous dress obviously wasn't designed for the fact that a person sweats and antiperspirant might not work. But J.Lo didn't even seem bothered about it.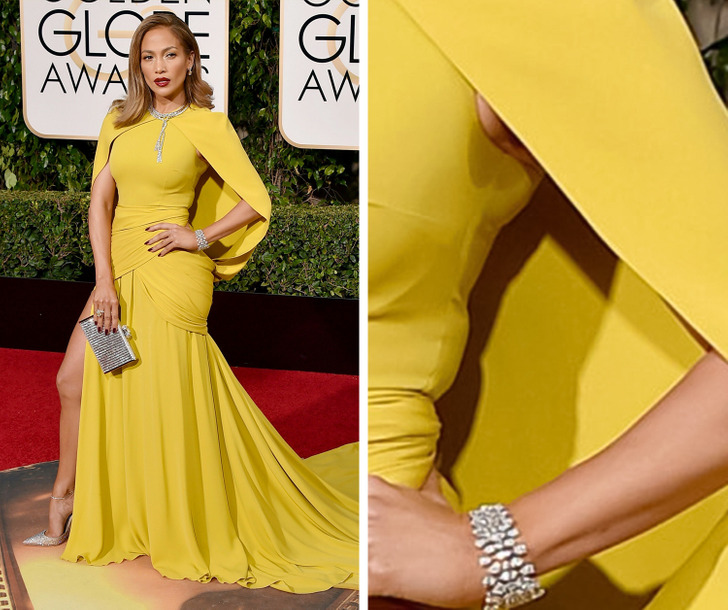 Jordan Strauss / Invision / AP / East News
Scarlett Johansson didn't take wind into account — it was trying to put the actress into an awkward situation, but she was firmly holding the flying bow.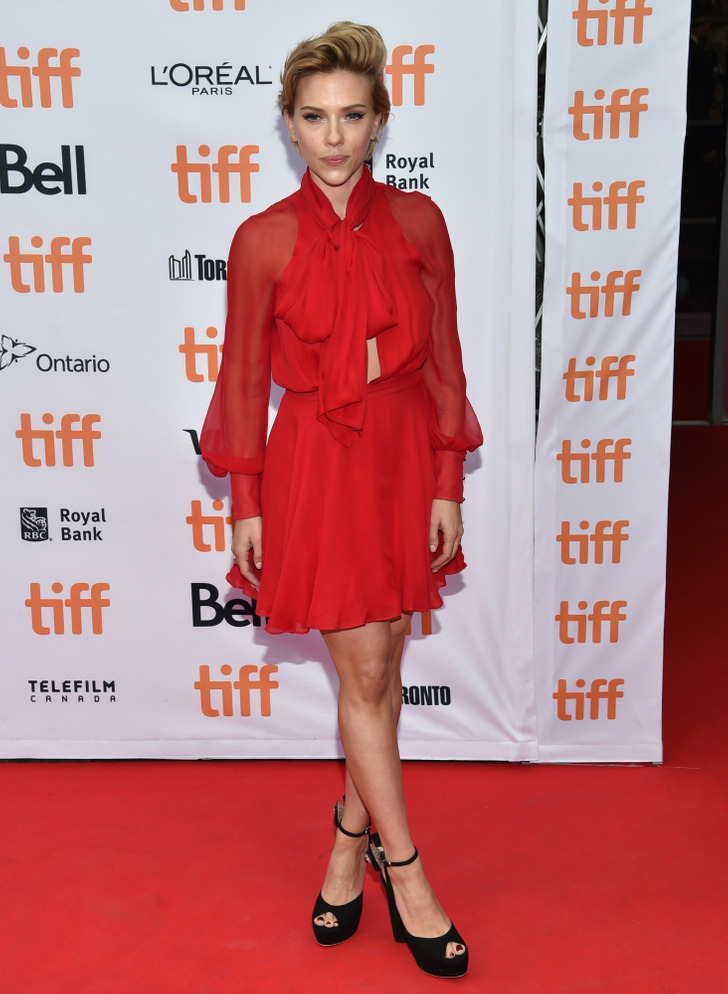 Evan Agostini / Invision / AP / East News
The train of Rihanna's dress was so huge that her colleagues literally had no place to put their feet. However, it seems none of the girls were annoyed with it.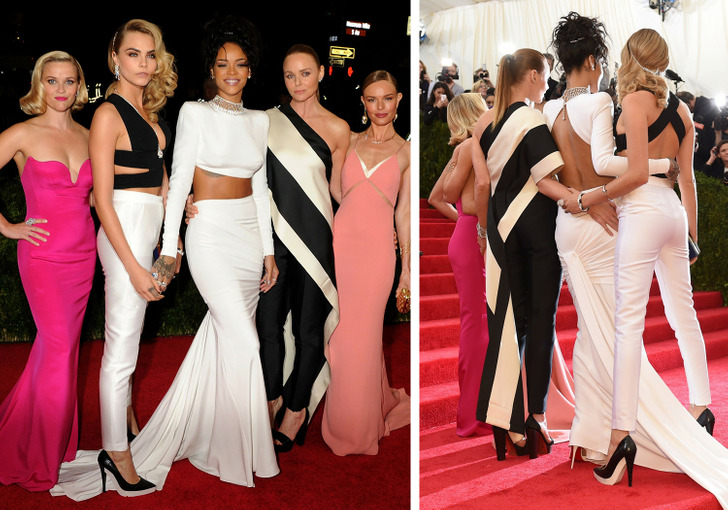 Gilbert Flores / Broadimage / East News
,
AFP / East News
Beyoncé's chic outfit was so tight-fitting that the diva could hardly take a step. At least her spouse was ready to come and help her if she needed it.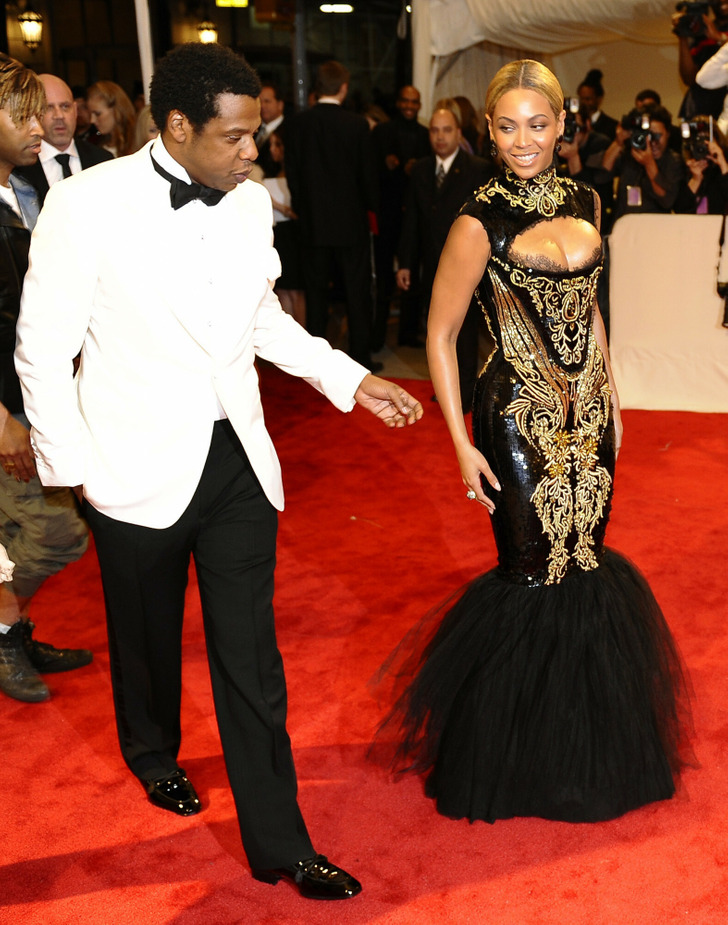 The tricky cut almost darkened Nicole Kidman's evening, but the actress treated the situation with humor and kept adjusting her dress without ceasing to smile.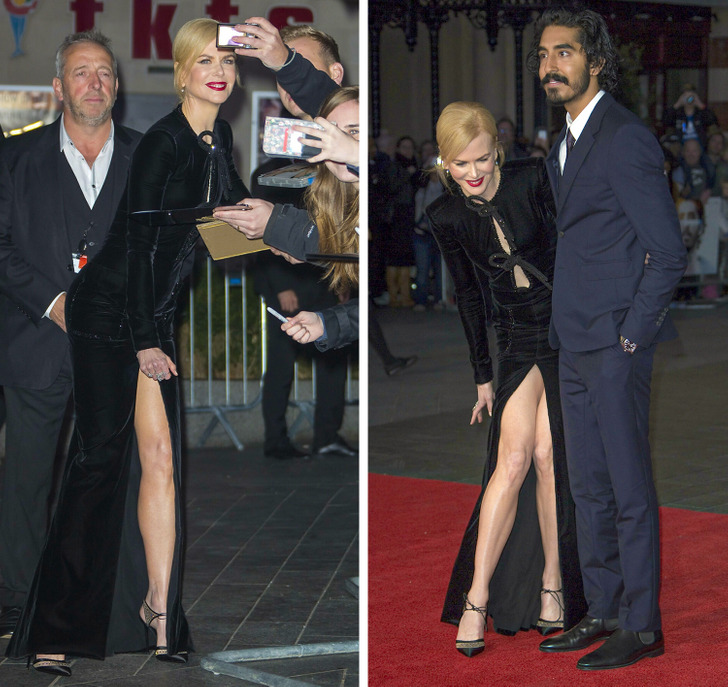 Lily-Rose Depp found herself in an awkward situation due to her disobeying bra. The actress reacted very fast and kept elegantly holding the top of her outfit.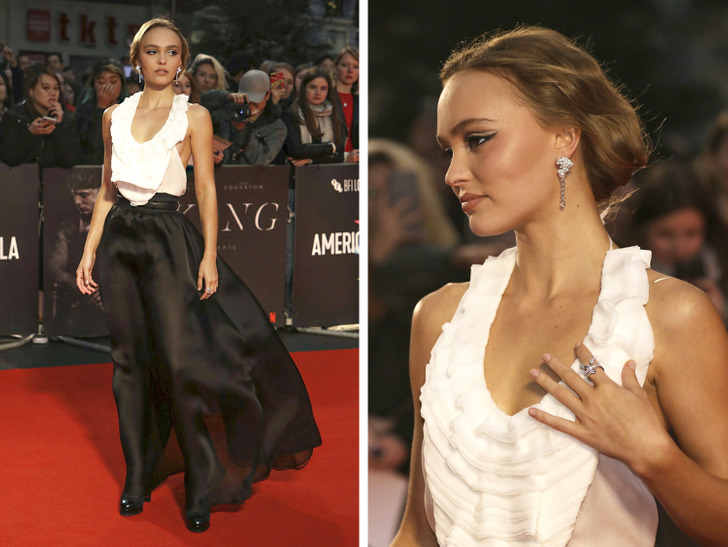 Invision / Invision / East News
,
Invision / Invision / East News
It seems the hem of Jennifer Aniston's dress had its own plans for the evening. However, the actress didn't want to let it free and demonstrated impressive endurance.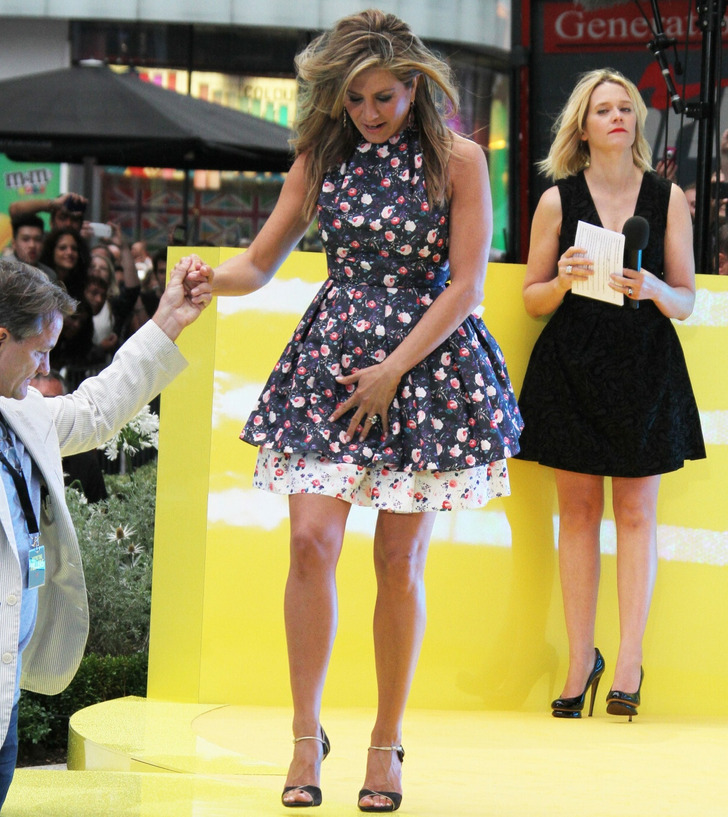 The bottom part of Jennifer Lawrence's impressive dress got torn right when she was on her way to the stage, but the actress went up the stairs as if nothing had happened.
The combination of a whimsy hem and a deep neckline played a joke on Paris Hilton. But the celebrity simply adjusted the skirt and went on posing for photographers without any sign of embarrassment.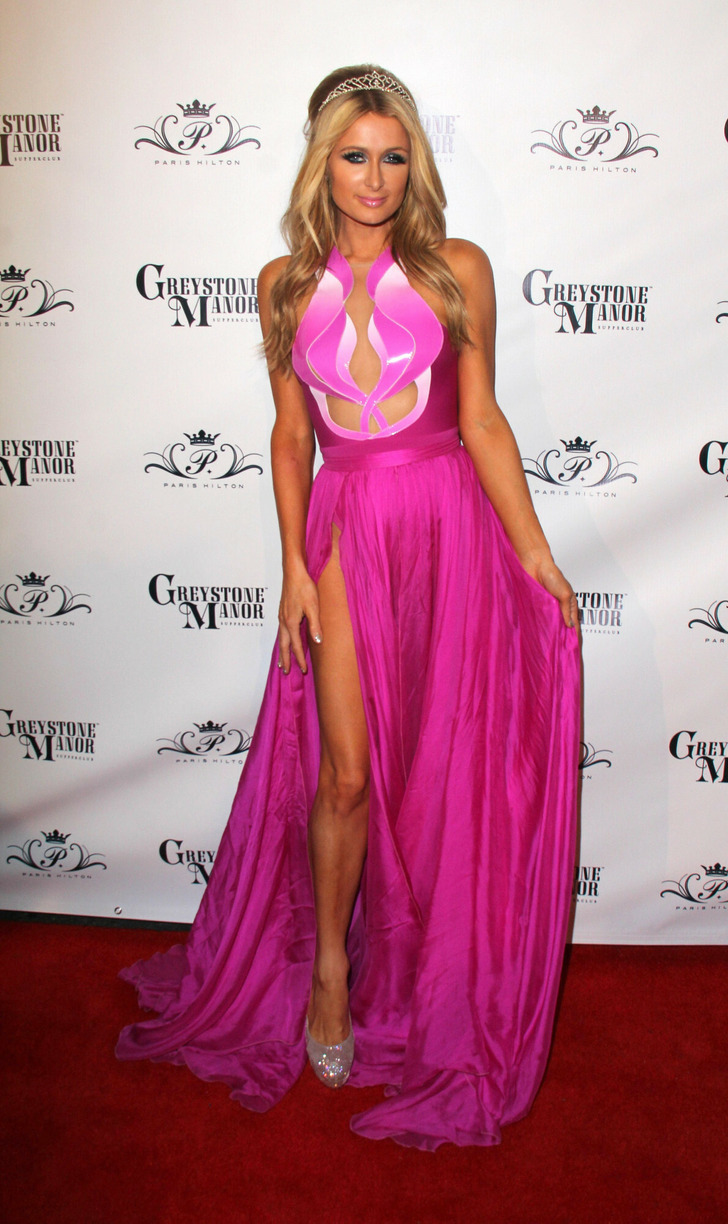 Jim Smeal / BEImages / East News
The zipper on Fergie's dress came apart right on the red carpet. As a true professional, the singer didn't show any sign of it.
Rihanna's chic outfit kept sliding down, but the pop diva found a way out — she literally took the dress into her hands.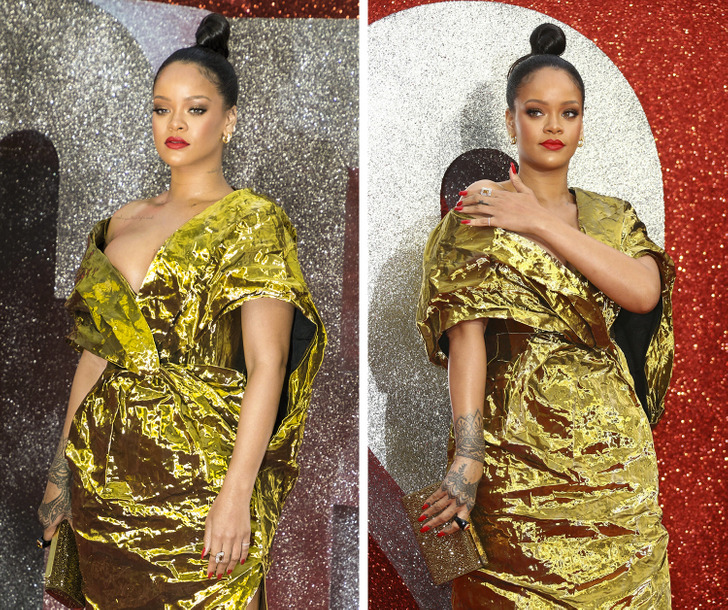 Vianney Le Caer / Invision / AP / East News
,
Joel C Ryan / Invision / AP / East News
Sharon Stone wet the bottom of her dress, which resulted in the heavy fabric going down, and cuts went further than they were supposed to. But the actress didn't even raise an eyebrow.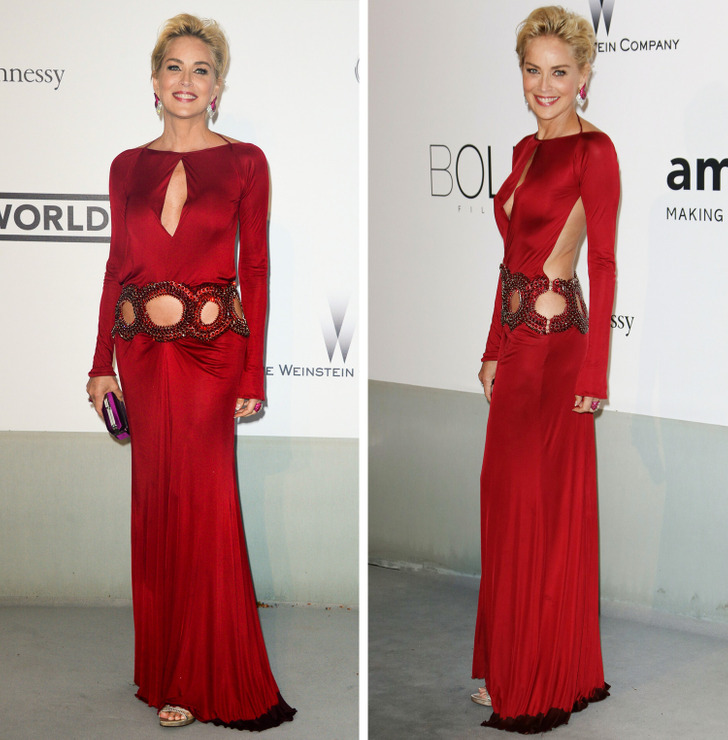 Briquet-Hahn-Marechal / ABACA / East News
,
Matt Baron / BEImages / East News
Something happened to Margot Robbie's zipper. But Alexander Skarsgård, who was standing next to her, reacted fast and after a couple of seconds, the actors kept on posing for photographers.
Zoe Saldaña also received help from her colleagues — the actress stepped on the hem of her dress and almost fell down.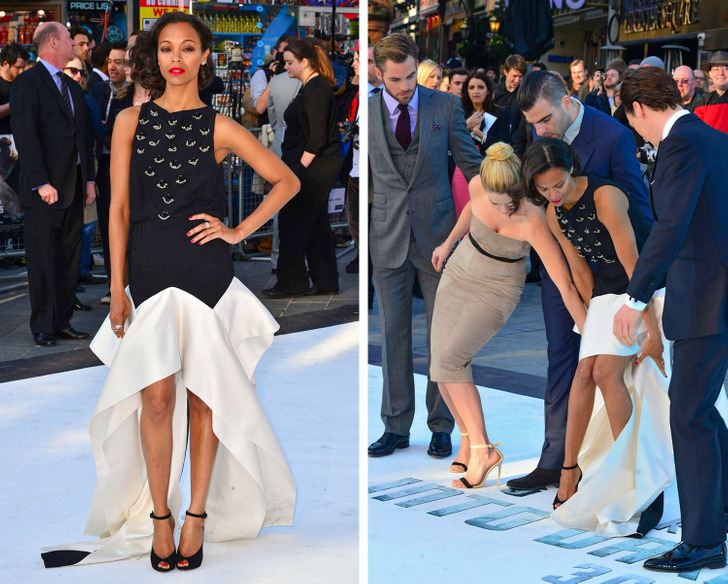 PacificCoastNews.com / East News
,
PacificCoastNews.com / East News
Raffey Cassidy got untangled from her dress thanks to her colleagues, Natalie Portman, Brady Corbet, and Stacy Martin.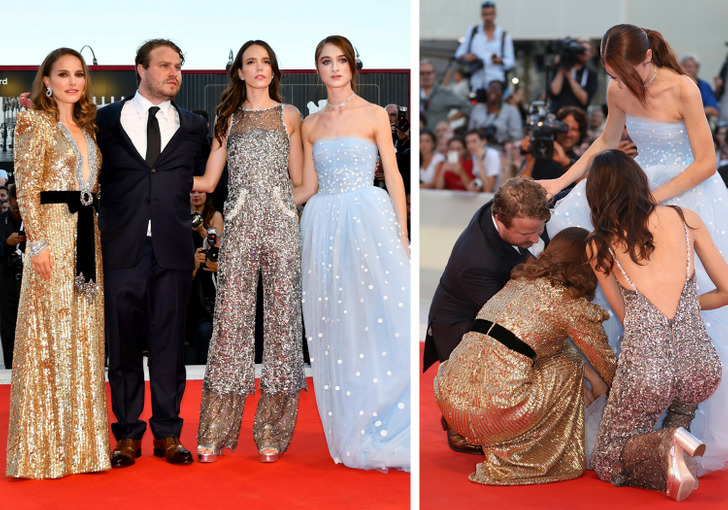 ALBERTO PIZZOLI / AFP / East News
,
Kazuko Wakayama / KCS / East News
Sarah Jessica Parker looks so good in this mini dress that her look wasn't even spoiled by the fact she had to constantly pull the dress down and adjust the bra.
Amy Adams' dress was so tight-fitting that the actress could hardly move on the red carpet. But it didn't stop her from posing for photographers with a big smile.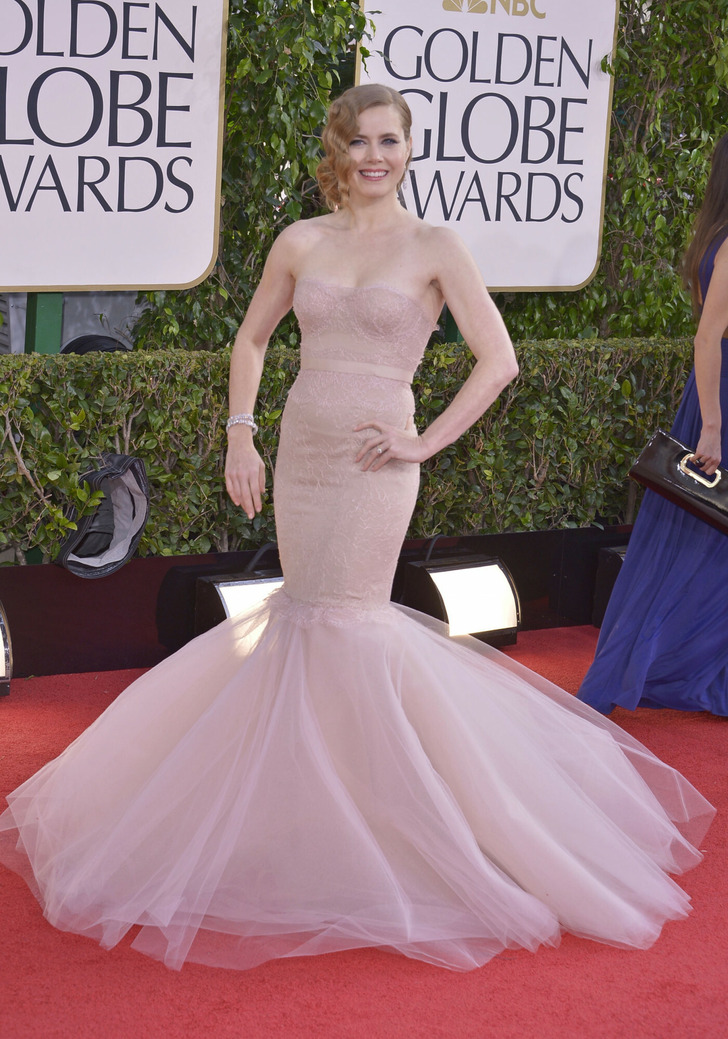 0000613 / Reporter / East News
Donatella Versace, like a true lady, reacted with a smile to the sudden rain that made her dress soggy. We, too, believe that such little things are not worth the trouble.
The zip on Elizabeth Banks' dress came undone as the woman posed on the red carpet. Judging by the actress' reaction, it didn't embarrass her in the slightest.
Have you ever found yourself in an awkward situation because of your outfit? Tell us about it in the comments!
Cheery
/
People
/
19 Celebrities Who Got Into an Awkward Situation Because of Their Evening Dress, But Came Out of It as Queens