19 Stars Who Got Into Embarrassing Situations Because of Their Outfits But Came Out Victorious
We tend to idolize famous people and think of them as flawless and perfectly put together all the time. Sure, they look amazing on the silver screen, but things can go downhill on the red carpet in seconds. From unzipped pants to broken straps and split dresses, celebrities have had their fair share of cringe-worthy fashion mishaps. However, this doesn't make us like them any less, it only proves they are human, just like us.
1. Margot Robbie's dress got untied while walking the red carpet in London in 2016. Luckily, her colleague Alexander Skarsgård was there to help her out.
2. One of the presenters at the People's Choice Awards in 2016 accidentally ripped one of the straps on Dakota Johnson's top, but the actress managed to gracefully keep everything in place.
3. Jessica Chastain and her gorgeous dress were fighting strong gusts of wind at the Cannes Film Festival back in 2014.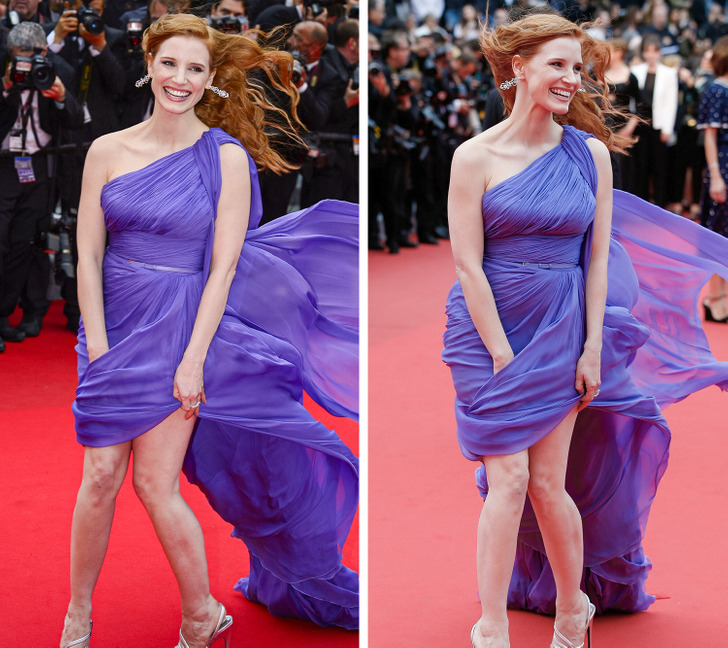 Xinhua/Photoshot/REPORTER/East News
,
AFP/EAST NEWS
4. Beautiful actress Elsa Hosk lost her earring while strutting the red carpet at the Venice Film Festival in 2019.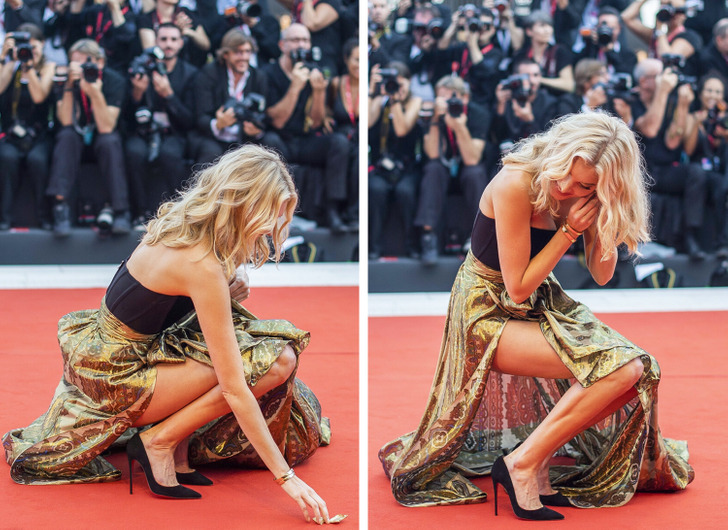 Invision/Invision/East News
,
Invision/Invision/East News
5. Robert Downey Jr. was so excited about the Iron Man 3 movie premiere that he didn't even zip his pants up properly.
6. Amal Clooney's gorgeous gown gave her a headache at the Cannes Film Festival in 2016. As she struggled with its long train, her hubby lent a helping hand.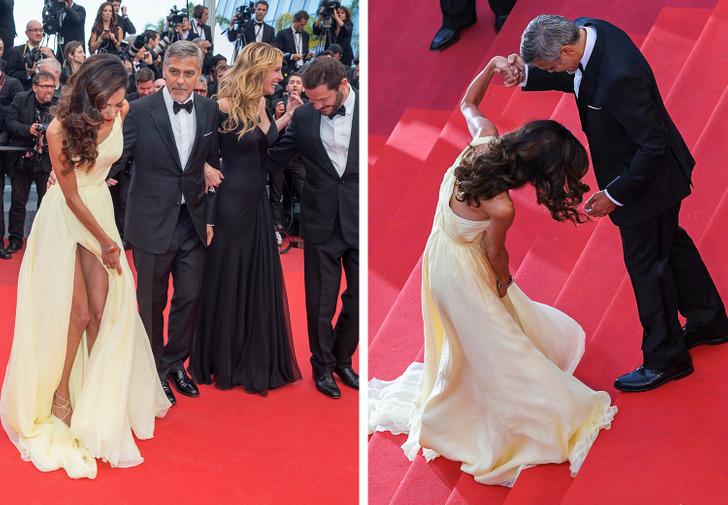 Allstar/Graham Whitby Boot/Mary Evans Picture Library/East News
,
AFP/EAST NEWS
7. British designer Stella McCartney almost took off Rihanna's skirt when her heel tangled up in the fabric at the 2015 Met Gala.
8. Paris Hilton wore 2 different shoes when she appeared on The Tonight Show Starring Jimmy Fallon this year.
9. Ben Affleck appeared at the Suicide Squad premiere in 2016 with his pants unbuttoned, his shirt half tucked in, and his belt buckled far outside the loops.
10. Sarah Jessica Parker experienced an unfortunate moment at the And Just Like That premiere this year when the handle of her purse fell off.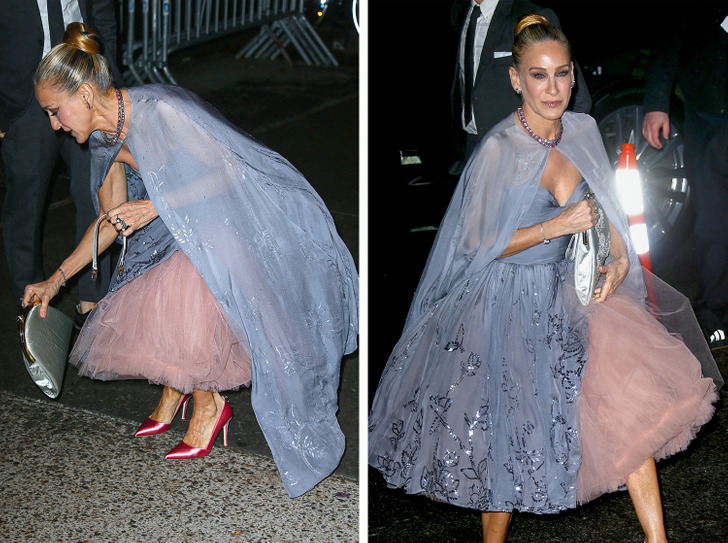 Dylan Travis/ABACA/Abaca/East News
,
Dylan Travis/ABACA/Abaca/East News
11. Elizabeth Banks wore a zipper-breaking tight dress at the Cannes Film Festival in 2009.
12. British television star Lydia Bright needed lots of strength to prevent the wind from revealing her underwear when she attended The Duke of Essex Polo Trophy in 2011 in England.
13. Kim Kardashian had a problem with her gorgeous green dress that started to come apart in the back.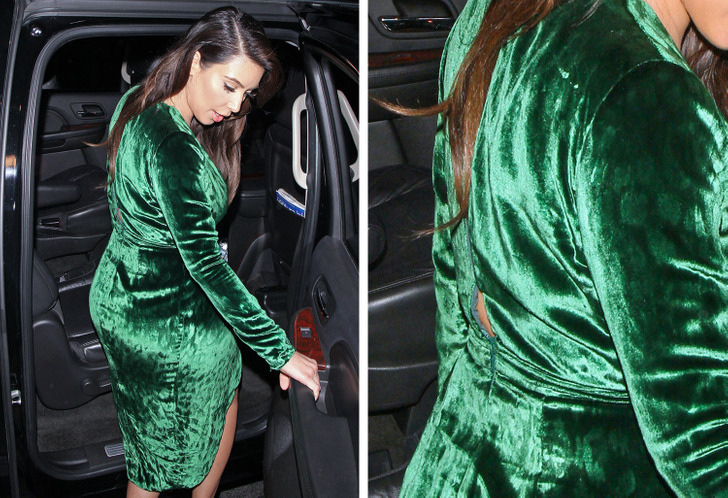 David Tonnessen, PacificCoastNews.com/EAST NEWS
,
David Tonnessen, PacificCoastNews.com/EAST NEWS
14. Part of Katherine Heigl's dress fell off as she was accepting the Female Star of the Year Award in 2010 in Las Vegas, but she handled it with a smile.
16. Dame Helen Mirren was caught by surprise as her earring fell off while talking to a reporter.
17. Lily-Rose Depp experienced a wardrobe malfunction when a gust of wind moved her plunging top in an unwanted direction at The King premiere in 2019.
18. Angelina Jolie's artificial hair fell off right on the red carpet. However, everyone was looking at her dazzling smile.
19. Kristen Stewart took off her uncomfortable shoes right on the red carpet at Cannes. And really, who needs those uncomfortable shoes?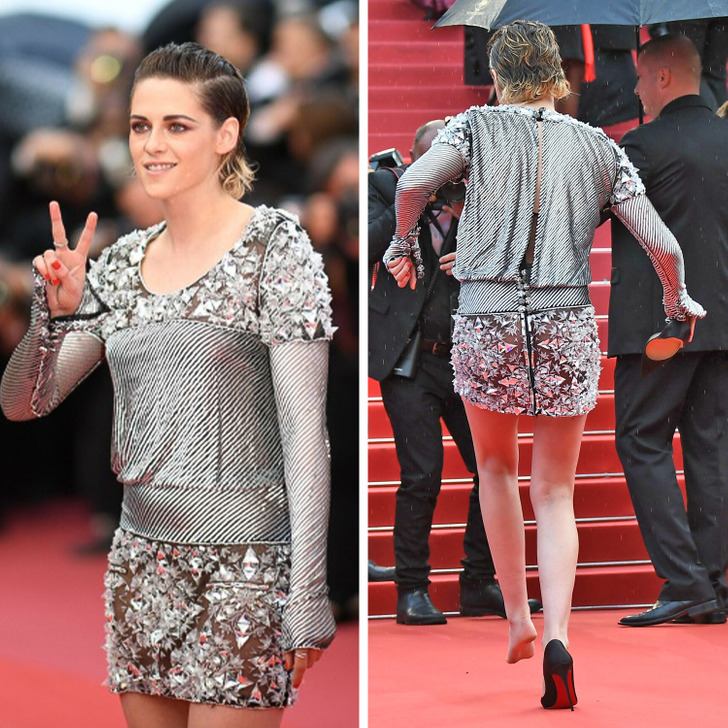 AFP / East News
,
AFP / East News
Have you ever been in a similar situation? How did you react and what did you learn from the experience?
Preview photo credit AFP / East News
,
AFP / East News
Cheery
/
People
/
19 Stars Who Got Into Embarrassing Situations Because of Their Outfits But Came Out Victorious