Millie Bobby Brown and Jake Bongiovi Have Been Together Just Over a Year, but Already Say They're Partners for Life
In Hollywood, celebrity romances aren't usually taken seriously even after marriage. It takes years or even decades of being married for a couple to be considered as having a truly strong bond. But looking at some celebrity lovers, it's safe to say that even though their relationship is in its infancy, the depth of their feelings is undeniable. Millie Bobby Brown and Jake Bongiovi have been together for about two years, but are already prepared to spend the rest of their lives with each other.
At first, Millie and Jake were best friends
As active social media users, Millie Bobby Brown and Jake Bongiovi met on Instagram. She is a successful actress, star of Stranger Things and Enola Holmes. He is an aspiring actor and the son of rock musician John Bon Jovi.
The couple developed a huge affection for each other almost immediately, but they didn't rush into a romantic relationship. Instead, Millie and Jake started off as just being friends. In June 2021, Jake posted a photo of them together on Instagram with a caption that dubbed them best friends forever.
Over time, their friendship grew into love
Soon after Millie and Jake described themselves as best friends, it became apparent that there was more to them than that. In June 2021, the pair were spotted holding hands while out on a walk in New York City, and in July, Millie posted a photo of them watching the sunset together. But everything finally came to light only in November 2021. Millie posted a touching photo with Jake, taken while they were on the London Eye ferris wheel. It shows the couple embracing affectionately and Jake kissing Millie on the cheek. The lovers were already spending their first Christmas together next month.
They can't hold back their feelings and freely share them with fans
The couple were so full of affection throughout 2022 that they couldn't stop sharing their happiness with the world. Millie and Jake posted touching photos on their Instagram pages, and in March they made their red carpet debut together as a couple as they attended the BAFTA Awards in London. Jake has since happily accompanied his sweetheart to the Season 4 premiere of Stranger Things in May, the Enola Holmes 2 premiere in October, and other events important to the actress.
They travel together a lot
Millie and Jake don't just share their love with the world, but also discover the world for themselves, together. In the first months of their relationship they were content with leisurely walks around London and New York. But on Jake's birthday, in May 2022, the couple were already spotted together on a tropical island. The following month, the lovers had an unusual date, going hiking together, and in July they went to Sardinia. Commenting on one of the photos, Millie admitted that she loves adventures with Jake and, a few days later, once again spent the day in the mountains with her boyfriend, proving her point.
They support each other in their studies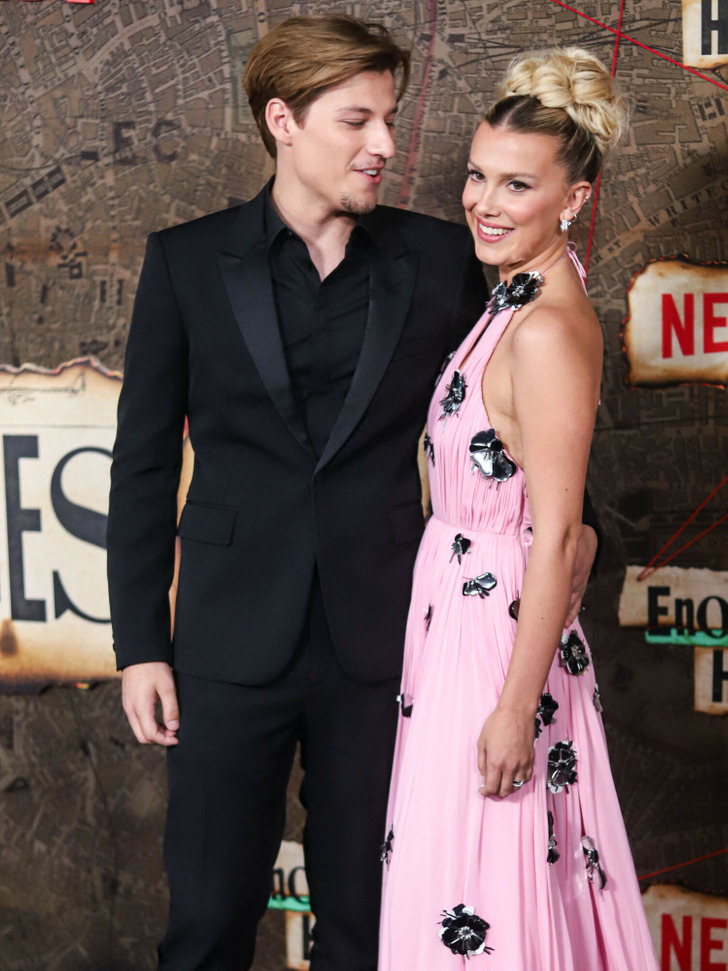 Hinton Jordan / Image Press Agency / ABACA / Abaca / East News
2022 was an important year for Millie for another reason: she started college after graduating from high school. Now, in addition to acting in films and TV series, the young actress is studying Human Services at Purdue University. Jake, who is currently a student at Syracuse University, has fervently supported Millie in her new beginnings. He's proud of her, as he knows how important it is to her to get a degree. Jake's famous family is also delighted. They love the fact that despite her success in Hollywood, Millie is still taking her future seriously.
Millie called Jake her "partner for life"
Millie and Jake have no doubts about their future together, and it's becoming increasingly clear to fans that the couple will eventually get married. In August 2022, when the two were spotted on a walk in New York, Millie was wearing a mysterious gold ring with diamonds on her left hand. And on the first day of the new year, 2023, Millie posted a touching declaration of love to Jake on Instagram and called him nothing less than her partner for life.
«Endlessly in love with the year I've had! Grateful for my friends, family, donkey (Bernard), my doggies, my puppies teeth, and my partner for life. Here's to another year with you and the wonderful people and animals around us. Let's do it again but better!»
How long, do you think, should a couple date before getting married?
Cheery
/
People
/
Millie Bobby Brown and Jake Bongiovi Have Been Together Just Over a Year, but Already Say They're Partners for Life