How Pedro Pascal Achieved Success at 47, and Now He Devotes It to His Mother, Who Never Got to See Her Son's Triumph
The path to success for Pedro Pascal, the star of the hit TV series The Last Of Us, was rocky. Before becoming a recognizable and charismatic TV hero, he had to leave his home country and change jobs more than 10 times. However, all his efforts were worth it, and his luck turned around after his role in Game of Thrones. We have looked into how he managed to overcome these challenges and become a star.
Pedro is from Chile and moved to the United States as a 2-year-old baby. His parents had to leave the country, and they first went to Europe and then to the US. The actor doesn't forget about his origin and shares his thoughts about the life of an immigrant, "You're a guest. And also, don't draw too much attention to yourself. And you have more to prove, and that can't be done through anything demonstrative or arrogant."
The love for his parents and family is the deep feeling the actor has lived with his entire life. Pedro remembers his mother with warmth. She was a child psychologist. "She was always incredibly supportive, never a stage mom. I always felt like she knew something that I didn't." Pedro's father was a fertility doctor. The actor shares, "Fantasy of mine of becoming an actor? I can blame my father for that."

But his mother didn't see her son's success, and, in 1999, she passed away tragically. Pedro had a hard time dealing with the loss. In memory of his mom, the actor changed his last name from Balmaceda to Pascal, "None of [my success] would be real if it weren't for her." Since then, Pedro has devoted his successes to his mom.
But before achieving success, Pedro had to work hard. In 1993, when he was a teenager, he went to New York and attended art school. He couldn't count on his family's support at the time — the entire family had to move back to Chile. Young Pedro went to auditions, worked as a waiter, and took part in theater plays. He changed jobs 17 times until he finally landed his breakthrough role in Game of Thrones.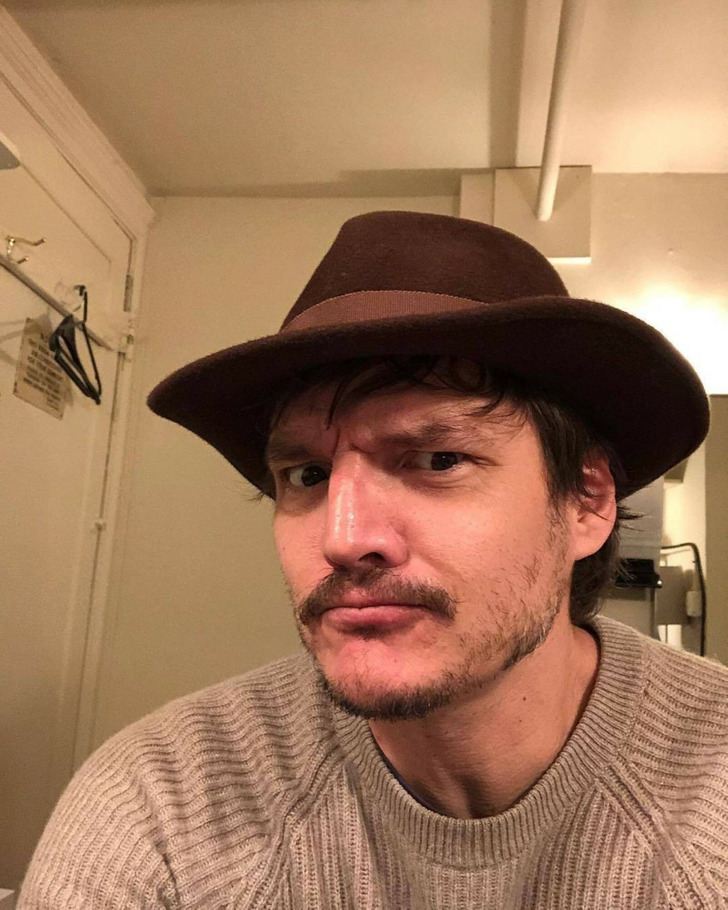 Wiese / face to face / FaceToFace / REPORTER / East News
During his path to success, the actor tried to change his name due to prejudices during auditions. So, for a short time, he was not Pedro but Alexander. It was the name of one of his favorite movie characters, Fanny and Alexander. He says, "I was willing to do absolutely anything to work more. And that meant if people felt confused by who they were looking at in the casting room because his first name was Pedro, then I'll change that. It didn't work."
Pedro is close friends with Óscar Isaac. They have been friends since 2005 when they were on Broadway together. Pascal calls him "his little brother he never wanted." Oscar also teases Pedro, describing their relationship, "He's obsessed with me. I try to get away from him, he finds me. Even when I change my number, it's like a disease." They celebrate holidays together and often post photos of themselves.
Pascal really values family bonds. On his social media, you can find posts with his nephews, sisters, father, and mom. His parents' activism left an imprint on him. Pascal is one of the few stars that talk openly about LGBT rights and women's rights to get an abortion. His younger sister, Lux, is an actress and transgender activist. In interviews, she said that Pedro gave her an incredible amount of support: "He has been an important part of this. He is also an artist and has been a guide. He was one of the first to give me the things that formed my identity."
Pedro keeps his personal life far from prying eyes. Journalists regularly look through his social media but can't find any indication of a romance with anyone. The actor spoke about his personal life seriously and said it wasn't easy to have a relationship with his schedule: "I suppose that sounds a bit arrogant. But if I want to get involved in something, I want to pay attention to it, and I want to nurture it. It takes energy to be with someone — physical energy, emotional energy — and you want them to be happy. So I haven't had time. Thank God for the internet."
Cheery
/
People
/
How Pedro Pascal Achieved Success at 47, and Now He Devotes It to His Mother, Who Never Got to See Her Son's Triumph