Viola Davis Has Achieved EGOT Status by Winning a Grammy Award for Her Narration of a Memoir Audiobook: "I Just EGOT!"
It is official: Viola Davis has achieved EGOT status! «It has just been such a journey,» said Viola Davis as she accepted the Grammy Award for best audiobook, narration & storytelling recording for her memoir Finding Me, which brought her to EGOT status.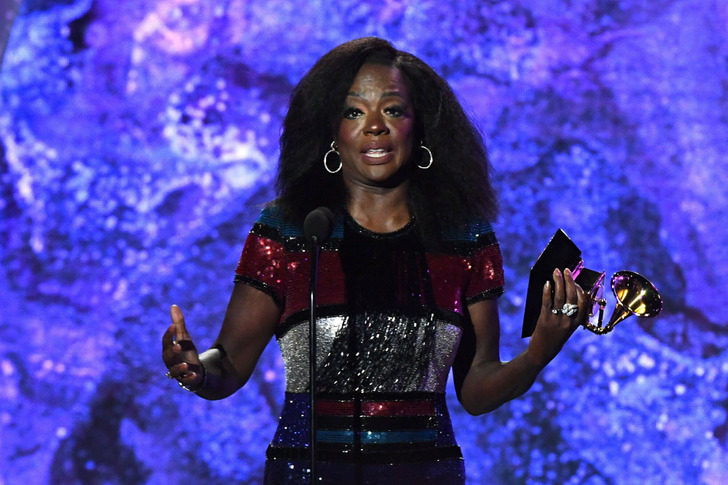 VALERIE MACON/AFP/East News
On Sunday at the 65th Grammy Awards Premiere Ceremony, the 57-year-old actress won the award for best audiobook, narration & storytelling recording for her memoir Finding Me, which allowed her to claim the coveted title that also requires an Academy Award, Emmy Award, and Tony Award.
Oh my God! I wrote this book to honor the 6-year-old Viola, to honor her life, her joy, her trauma, everything. And it has just been such a journey. I just EGOT!
A video of Davis' speech was shared on Twitter by Jennifer Hudson, also an EGOT winner, to celebrate Davis' achievement.
Davis won her first Grammy award on her initial nomination, triumphing over Jamie Foxx's «Act Like You Got Some Sense,» Mel Brooks' «All About Me!: My Remarkable Life in Show Business,» Lin-Manuel Miranda's «Aristotle and Dante Dive into the Waters of the World by Benjamin Alire Sáenz,» and Questlove's «Music Is History.»
The path towards EGOT status for the star of «The Woman King» began in 2001, when she secured the Best Featured Actress in a Play award at the 55th Tony Awards for her portrayal of Tonya in the Broadway production of «King Hedley II.» She had been previously nominated for the same award in 1996 for her performance in «Seven Guitars.»
In 2010, she clinched the award for Best Leading Actress in a Play for her portrayal of Rose Maxson in «Fences,» which also led to her first Academy Award in 2017 for Best Supporting Actress in the feature film adaptation of the play.
In 2009, she received a nomination for Best Supporting Actress for her role in Doubt. Additionally, she was nominated for Best Actress for her performances in The Help in 2012 and Ma Rainey's Black Bottom in 2021.
As the lead actress in ABC's How to Get Away with Murder, Davis won her first Emmy Award in 2015, becoming the first Black actress to win the outstanding lead actress in a drama series category, for her portrayal of Annalise Keating.
Preview photo credit VALERIE MACON/AFP/East News
Cheery
/
People
/
Viola Davis Has Achieved EGOT Status by Winning a Grammy Award for Her Narration of a Memoir Audiobook: "I Just EGOT!"