Zoe Saldaña Is as Protective of Her Kids as Neytiri Is of Hers, and Believes Motherhood Helps Her Avoid Aging
Actress Zoe Saldaña is known to many for her roles in major film franchises in which she plays feisty heroines. In real life, Zoe is a proud mother of three boys. She speaks openly about the challenges of motherhood and raises her children without any regard to gender stereotypes.
Zoe has three sons and feels that's enough
Zoe and her husband, artist Marco Perego, have three children: twin boys, who were born in 2014, and another son, born in 2017. People often pester Zoe and Marco with questions about their kids, such as if they want to have another child, particularly a girl. But the couple has made no such plans. "The reality is our family is complete as it came and we're very happy and proud of them. We don't feel like we're missing anything," says Saldaña.
The actress changed her attitude to work thanks to motherhood
When Zoe was pregnant with the twins, she declared that she had no intention of returning to acting immediately after giving birth. At the time, she had already starred in three major film franchises (Avatar, Guardians of the Galaxy and Star Trek) and noted that the producers of these films were very understanding of the change in her personal life.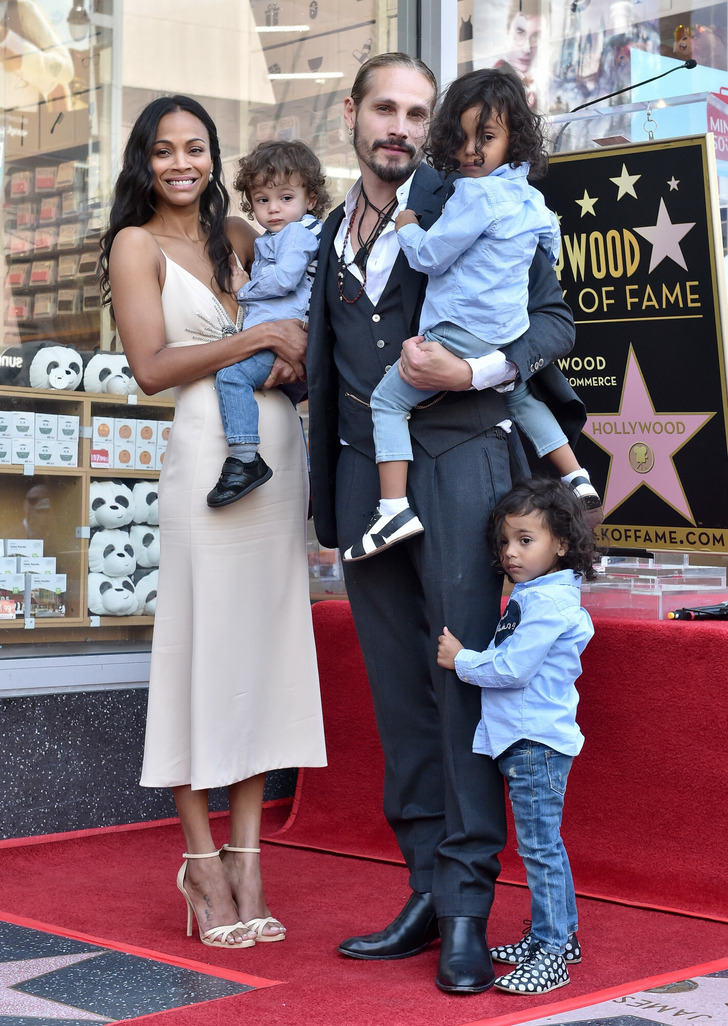 AXELLE / BAUER-GRIFFIN / East News
According to Zoe, motherhood had a positive impact on her appearance and helped her to avoid age-related changes. This is because before the birth of her boys, she worked very hard, and had trouble sleeping. But all that changed when she had children. "I think having children keeps me out of trouble a lot. I go to bed early. I eat better. I sleep longer sometimes. I'm back to sleeping," Saldaña explained.
Zoe and her husband protect their children from the public eye
Zoe talks about her family in interviews, but she and her husband respect the privacy of their children and make sure their lives don't become public domain. The actress fears that life in the limelight can be a traumatic experience for children who don't yet understand what's going on around them.

"This is the path that we've chosen, we have to wait for their choices to be heard so in the meantime, we need to protect their environment and we're all about that," says the actress.
The couple have a special approach to raising their boys
Zoe and her husband have been responsible in raising their boys and intend for them to grow up to be happy men. The actress said she read books and talked to other parents, ready to take any advice.
The couple teach their sons to not think about gender stereotypes: they allow them to be vulnerable and sensible and never encourage fighting. " 'Oh, boys will be boys' — those kinds of terms just don't exist in our home," explains Zoe.
Saldaña talks openly about the difficulties of motherhood
The actress makes no secret of the fact that parenthood can be hard, and admits that she likes to complain about being tired. Her children don't always behave the way she wants them to, and Zoe ends up having to tell them off. But when they do, Saldaña thinks, "I'm so happy I have little boys."
The kids also teach Zoe important lessons. Like many other mothers, Saldaña often forgets to have fun due to being busy with house work. That's when her children come to the rescue, reminding her: "Mama, be nice, sit down and play with me."
Working as an actress helps her in raising her children
Balancing parenthood with working in the film industry can be difficult, but some of Zoe's roles have helped her in raising her children. The boys once saw her in green make-up, which she used to transform herself into her character from Guardians of the Galaxy. They decided that their mom was connected to another green hero from the Marvel Universe, the Hulk, and Saldaña decided not to dissuade them. The actress jokingly threatened that she would call her friend, the Hulk, and he would come and take away their toys if they didn't eat their vegetables.
And thanks to motherhood, Zoe understands her characters better
Having children has affected the way Zoe perceives some of her characters. For example, she now better understands Neytiri from the Avatar franchise and feels a connection to her. "In my personal life, when I became a parent, fear entered my realm. The fear of losing something that you love so much, you know? And you just spend a great deal of your time creating these hypothetical scenarios that are just unimaginable," Saldaña explains.
Do you have children? How do you think having children can impact people's careers?
Cheery
/
People
/
Zoe Saldaña Is as Protective of Her Kids as Neytiri Is of Hers, and Believes Motherhood Helps Her Avoid Aging