After a Tough Divorce, Former NFL Star Michael Strahan was Alone With 4-Month-Old Twins, But He Thinks It Was a Very Valuable Time
The charming TV presenter Michael Strahan considers family to be one of the most important things in his life, although fatherhood has not been easy for him. He had to maintain a connection with his older children across the ocean, and he had to fight in court for custody of his younger twins. Fortunately, his efforts paid off threefold. The celebrity even received an award and the title of "Best Father of the Year."
He's the father of 5 children.
Today, former NFL player Michael Strahan is known and loved as the host of the legendary TV show Good Morning America. Although the star has built a successful career in both sports and television, Michael considers his numerous children to be his greatest achievement.
Strahan has 2 biological children and one adoptive son from his first wife, Wanda Hutchins, and a set of twins from his second wife, Jean Muggli. "You worry how the kids will mix and blend, but brothers and sisters are brothers and sisters regardless of different mothers."
He was a father from a distance.
Michael's experience of fatherhood has not been what you might call typical. There were always obstacles on his parental path. His divorce from his first wife scattered Strahan and his biological daughter Tanita, son Michael Jr., and adopted son Dorian across different continents. The children moved to Germany with their mother, while Michael stayed in the United States. "It was very important for me to be active, to be a part of their life. I was constantly on planes and phones. And it's very hard — of course it's hard with them being in Germany. But one thing I learned is, you make time for what you want to make time for."
Fortunately, the kids returned to the US. Tanita lives in Los Angeles and works as an illustrator, while Michael Jr. moved to New York and does not share details about his personal life.
He was left alone with 4-month-old twins.
Michael's second marriage lasted for 7 years, but in 2006, they got divorced. The divorce was full of mutual accusations. Strahan was fighting for primary custody over his daughters. In the end, the spouses got shared custody and the twins lived with each of the parents in turns.

The former NFL player has always put family first. And he remembers his early visits with great emotion. "When you're a single father at that point with 4-month-old kids and you gotta be with them all the time by yourself and watching them grow and you gotta be active and I gotta do all those things, it taught me that I can do it. There's nothing to be afraid of. I can do it. And I did it."
He considers raising children his best time.
Michael never wanted to be the weekend dad and never tried to pay off his kids with gifts or money. He always took an active part in his children's lives and found a certain strength in parenting.
Now, the twins are 18 years old. They used to do horseback riding. Now, Isabella is starting out as a model, and Sophia is getting a degree in Duke University. Michael's children grew up and left the family nest.

He supports all his children and nostalgically remembers the time when they were younger. "I look back on that as one of the most fulfilling times of my life. And I look at my kids now and it makes me happy because I know it paid off in my relationship with them."
He appeared on the Walk of Fame accompanied by his family.
Currently, the television host has nowhere to go but up. On January 23rd, Michael Strahan was honored with a star on the Hollywood Walk of Fame. He was not alone at the ceremony — his entire family accompanied him. Supporting Michael on such a special occasion were his mother, Louise, his girlfriend, Kayla Quick, whom he began dating in 2015, and his 3 beloved daughters.
He's doing an educational show for kids after flying to space.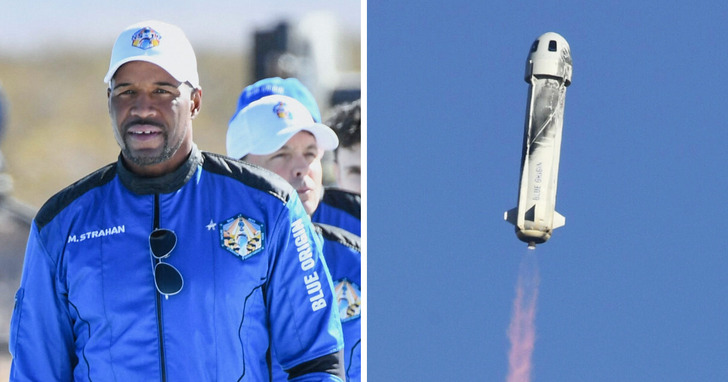 PATRICK T. FALLON/AFP/East News
,
PATRICK T. FALLON/AFP/East News
Although Michael's own children have grown up, his love for the younger generation will last for many years to come. In December 2021, Strahan flew to space aboard Blue Origin's New Shepard. The 10-minute flight impressed the television host so much that today he is working on developing a children's educational show about space and the universe. It seems that Michael's childhood will last forever. As the star himself says, he just loves being with children.
Cheery
/
Family
/
After a Tough Divorce, Former NFL Star Michael Strahan was Alone With 4-Month-Old Twins, But He Thinks It Was a Very Valuable Time