Hilarie Burton Went to Live on a Farm With Jeffrey Dean Morgan and Had 2 Kids. 10 Years Later, He Walked Her to the Altar
There are couples, such as Aaron Paul and Lauren Parsekian, that are ready to go to the altar on the first date. Others are like Goldie Hawn and Kurt Russel, who don't think that getting married is an important step. Jeffrey Dean Morgan and Hilarie Burton needed more than 10 years to become husband and wife. But that doesn't mean they weren't sure about their feelings.
A fast romance
Burton and Morgan were introduced to each other by their mutual friend, Jensen Ackles. He worked in different series with both of them. So, on a spring day, he thought it would be a great idea to organize a blind date for them. The actress remembers that Jeffrey was so confident that it really took her by surpris. "I was not a girl anyone pursued. I've always been alpha. And Jeffrey was like, 'You're going to be my girlfriend.'"

Burton liked this change of role. She loved having someone take care of her. The romance moved very fast. Before, Hilarie had been quite careful in her relationships, but this time, she just dived right in. Jeffrey said, "Let's do it! Let's run away!" And they did.
It seemed crazy: living, traveling around the entire country, and raising children. But to everyone's surprise, it worked out. Burton and Morgan first became parents just 1 year after they met. In 2010, they had a son, Augustus. And in 2019, Hilarie gave birth to their daughter Virginia. They weren't even planning to have a wedding, like most people do.
True intimacy without an official marriage
Before meeting Jeffrey, Hilarie had never been married. Even after falling in love with Jeffrey, she wasn't interested in rushing into a ceremony. They didn't need a wedding in order to call each other husband and wife. "Here's the God's honest fact: From the moment I met Jeffrey, he was my husband. Rather than make vows right out of the gate, we lived them."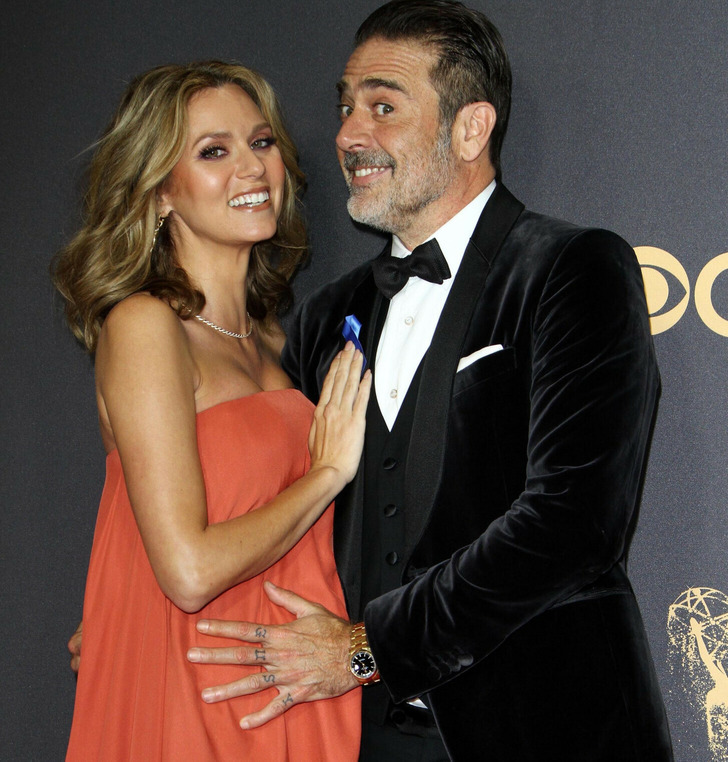 NPA / The Grosby Group / East News
They became parents almost at the beginning of their romance, and for all the following years, they dreamed of having even more children. However, it turned out to be not as simple as with their first child. After the birth of their son Augustus, Hilarie tried to conceive for many years. After a while, it finally happened. However, the couple's tears of joy quickly turned into tears of sorrow when they lost that child. Unfortunately, such things happen from time to time.
Therefore, when 35-year-old Burton learned that she was expecting another baby, she did not tell anyone about it. The actress was afraid of losing the baby. She checked the fetus's heartbeat every day of her pregnancy up to the day of delivery. But finally, in 2018, Morgan joined the ranks of incredibly cute celebrity dads of daughters.
Parenthood brought them even closer together. Morgan helped deliver their children both times and from the first seconds of their lives, he got to know the little ones. The couple spent hours together flipping through books in search of suitable names for their son and daughter. Burton once said that in this sense they were a truly united team.
When, at the beginning of their relationship, Morgan suggested that they run away somewhere far from everyone, he meant it literally. As soon as Hilarie became pregnant for the first time, the couple immediately moved to the quiet Hudson Valley, where they started living on a real farm. They raised chickens, ducks, donkeys, cows, ostriches, and even alpacas. After their acting jobs, the actor and actress rolled up their sleeves and lived a regular rural life.

Moving there was liberating, and it changed their views of many things. Burton says, "An attractive woman is one who is hard-working, who can handle animals and lift up bags of dirt, not one with highlights or abs or nails. I've never felt more valued." They are not the only stars that have decided to live far from Hollywood. Nikki Reed and Ian Somerhalder made the same choice.
Getting married after 10 years
In 2019, Burton finally added Morgan to her name and confirmed that they got married. She laughs because the press had falsely announced their wedding several times before: first in 2014, then in 2015. So, the ceremony was not likely to change much for them. "We've lived as husband and wife for a decade. We've built a family, and a farm and found our community."

They had a small ceremony with their closest friends and family. And Jensen Ackles, who arranged their first date, hosted it.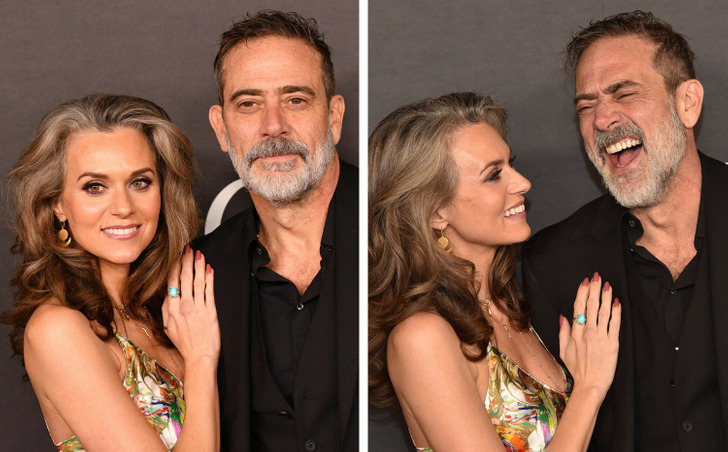 CHRIS DELMAS / AFP / East News
,
CHRIS DELMAS / AFP / East News
For many years, the couple lived without ever thinking of getting married. However, one day, according to Hilarie, Jeffrey presented an idea of how their ceremony could look: who would be the best man and who they would invite. This celebration, surrounded by their most beloved and closest people, seemed so beautiful to the couple that they finally decided to go through with it. And they got married, as they say, in gratitude to the people who had been with them for the past 10 years.
Preview photo credit CHRIS DELMAS / AFP / East News
,
CHRIS DELMAS / AFP / East News
Cheery
/
Family
/
Hilarie Burton Went to Live on a Farm With Jeffrey Dean Morgan and Had 2 Kids. 10 Years Later, He Walked Her to the Altar