Haircuts That Best Suit Your Face Shape, as Proven by Celebrities' Photos
A certain hairstyle can look bad on you but great on Beyoncé and it's not because she's, well, Beyoncé, but because her face shape is different than yours. It's important to determine your face shape in order to figure out what suits you best. The way you can do this is by pulling your hair back and outlining the shape of your face with a lip pencil or eyeliner.
Round
For a round face, long layers help it look slimmer and highlight your beautiful features.
A short pixie cut with some volume on top lengthens the face and makes it look more oval, adding some texture.
Square
An angled look makes your square face look more narrow. If you want to soften your jawline, a short middle part hairstyle is right for you.
For square faces, it's also cute to try out some wispy bangs that fall to the side to soften the lines of your face.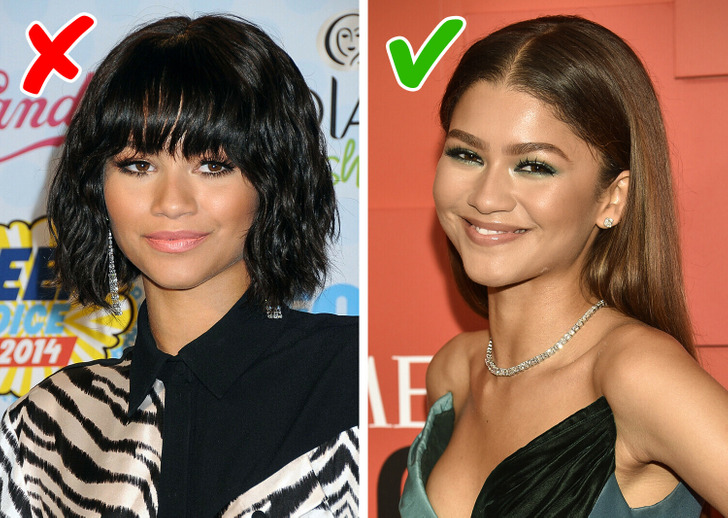 Byron Purvis / AdMedia / SIPA / East News
,
Invision / Invision / East News
Avoid evenly cut bangs that make a line across the forehead.
If you want to have long hair, keeping it straight is key. It will add some length to your face.
Rectangle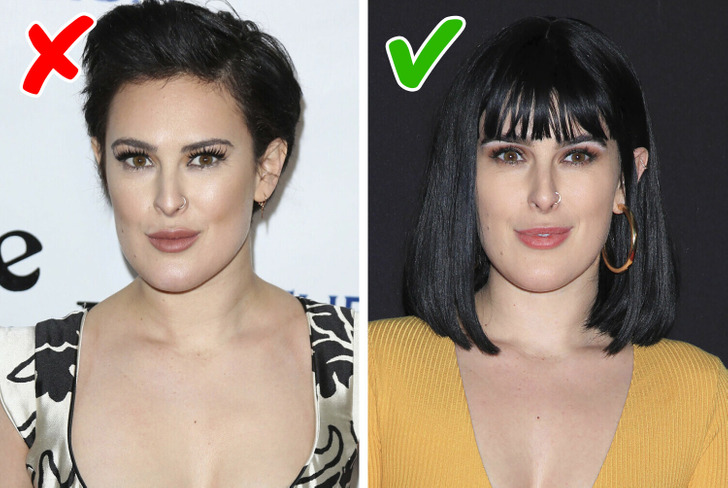 zz / JMA / STAR MAX / IPx / Associated Press / East News
,
zz / Raoul Gatchalian / STAR MAX / IPx / Associated Press / East News
Short hairstyles can make your jaw corners look even stronger. The long bob is great for rectangular facial shapes because the width of the overall silhouette helps.
Long
For a long face, it's important to balance it out, and curls would be the perfect fit. Let your curls go wild, and this will reveal your beautiful features.
A good salon-like blowout is a great way to gain more volume to your hair. Try to avoid sleek hairstyles as this will make your face appear longer than it is.
A long face shape is the same as an oval one, just longer. It is usually best to make your long face appear wider, and the best way to do this is to use a flat iron to make waves in your hair.
Diamond
The goal for a diamond face shape is to highlight your elegant features rather than balance them out. For this, it's great to go short with a textured lob.
Heart
If you want to keep your hair long, try a deep side part with some loose waves as this may draw attention away from your forehead.
It's best to stay away from making middle parts in your hair, so a deep side part with long waves may do the trick to make you look fabulous.
Oval
Keep your hair from falling flat by adding some volume with side-swept bangs — they shape your face really well and prevent you from having to cut your hair.
The goal for an oval face is to stay away from elongating it, which usually happens when you get one-length hairstyles.
How many times have you changed your hairstyle in your life? Are you considering getting a haircut?
Preview photo credit Byron Purvis / AdMedia / SIPA / East News
,
Invision / Invision / East News