Daniel Radcliffe Fell in Love With Erin Darke for Her Sense of Humor and Intelligence, and They've Now Been Together for 10 Years
Daniel Radcliffe has spent most of his life acting. That's how he met the love of his life — actress Erin Darke, who is five years older than him. They've been together for over 10 years now, and no silly stereotypes or gossip has been able to interfere with the couple's peaceful happiness.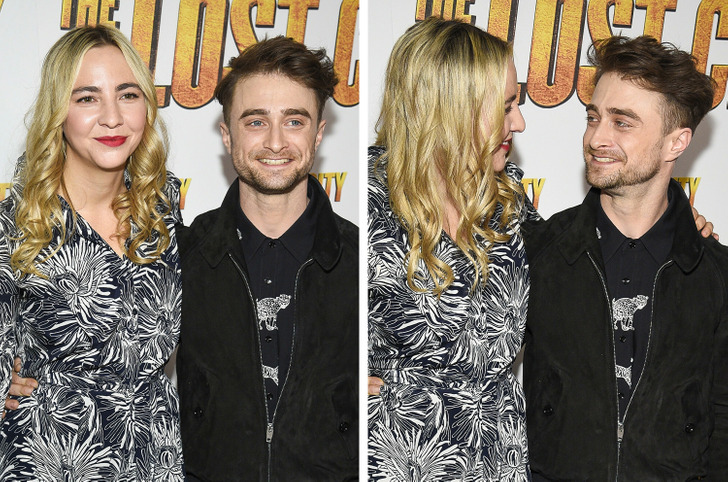 Invision / Invision / East News
,
Invision / Invision / East News
Daniel became famous worldwide as a child for his role as Harry Potter. He grew up in front of the cameras. Perhaps that's why, once he was older, he decided to lead a fairly quiet life and not tell the press too much about his relationship.
The actor managed to get away from the character of the "Boy Who Lived" and has starred in many cool projects. During the filming of one of them, in 2012, he met Erin Darke — an acquaintance that changed Radcliffe's life.
Daniel and Erin played lovers in Kill Your Darlings. The chemistry between them went beyond the limits of the set. The actress stunned Radcliffe with her intelligence and sense of humor. He immediately knew there was something about her. Later in an interview, he even confessed that he didn't have to act during the flirting scenes — all the communication between them was real.
The actor said that, someday, he and Erin will tell their children the story of how they met because, thanks to this project, they have a unique recording of them getting to know each other and flirting for the first time.
"There's a moment when she makes me laugh, and I'm laughing as me and not as my character. She was incredibly funny and smart. I knew I was in trouble."
Since then, more than ten years have passed; they're still together, living a quiet life in New York and enjoying each other's company. The couple is pleased with the tabloids' lack of interest in their relationship. Erin jokes that they're just not interested in them, as they've mostly been photographed walking, going to a coffee shop, or waiting for a taxi.
Daniel thought he would have to hide his "nerdy" interests, but Erin shares them. Radcliffe said it was the kind of relationship he had always strived for. After all, even the most mundane and ordinary things become amazing with this woman. For example, a trip to the shop. The actor never thought that the shopping process could be so much fun.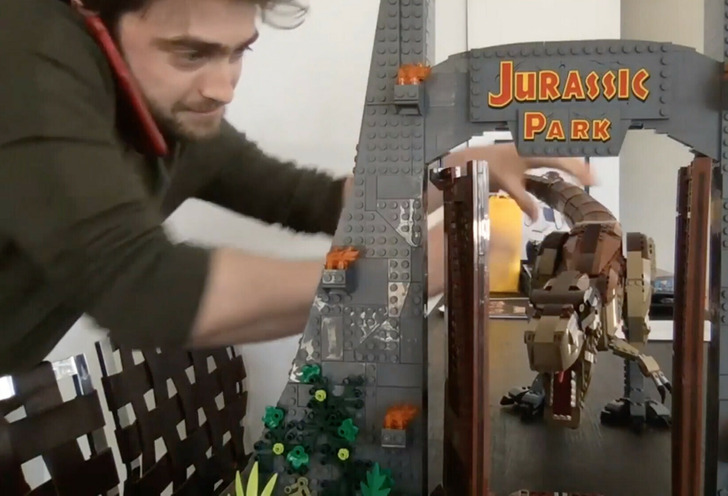 CBS / Ferrari Press / East News
In 2020, they had the chance to work on the same set again during the making of the TV series Miracle Workers: Dark Ages. They love filming together. Moreover, the experience was made even more magical and special by its resemblance to how they met. Still, they wouldn't want to make it a regular thing.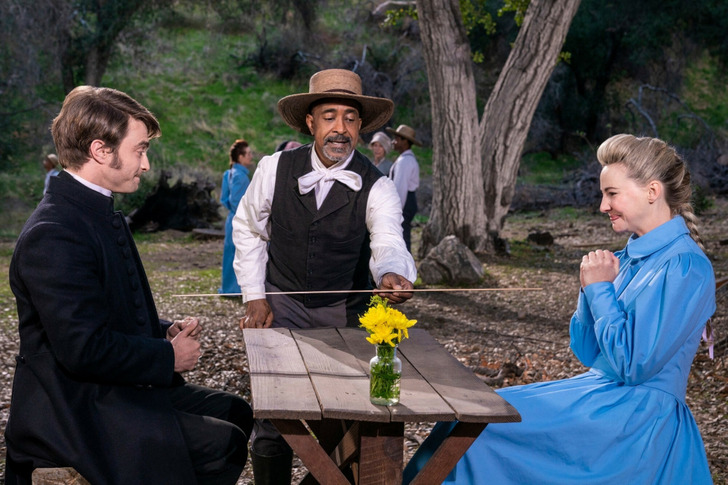 TBS / Courtesy Everett Collection / East News
It's not easy for two actors to be in a relationship — time apart and lengthy trips to the film set are inevitable. But Daniel and Erin don't let that stop them. What's more, they have each become the most devoted fan of their partner's work. The lovers constantly support one another and listen to each other's opinions.
When Radcliffe was sent the script of the film The Lost City, he told Erin that it would star Sandra Bullock, and she immediately said that he had to take the job. And it's not surprising, as she's a long-time fan of Sandra's. But Daniel himself was interested in the project, so there was no argument there.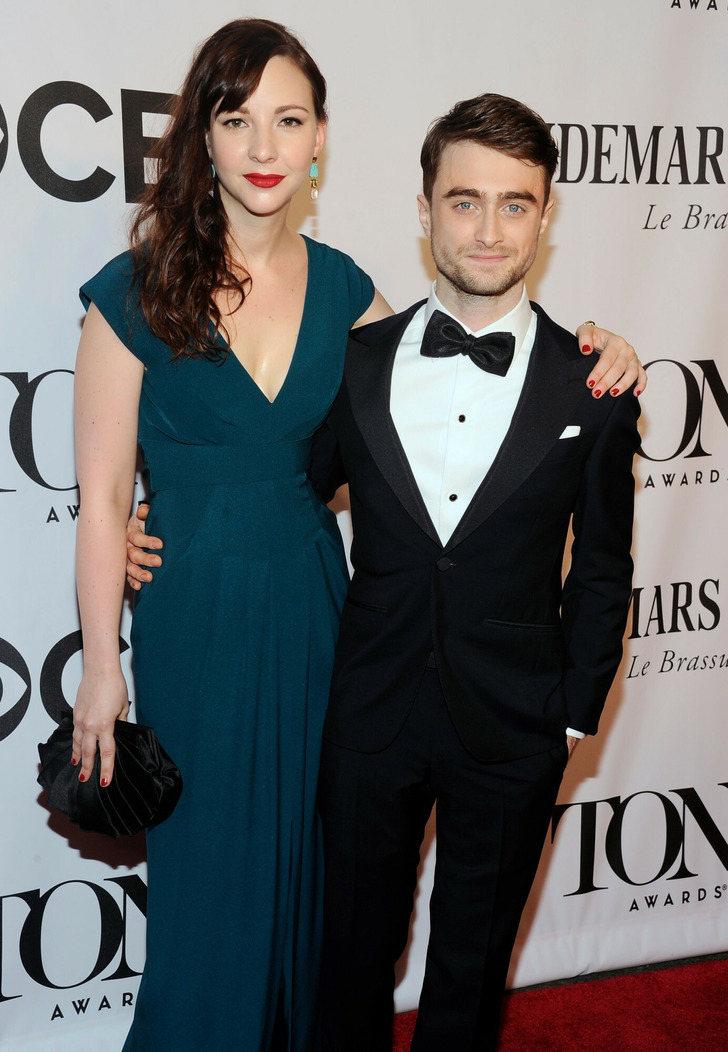 Charles Sykes / Invision / AP / East News
Despite their long and serious relationship, the couple is still not thinking of getting married. Even though magazines have already claimed several times that they've done it. But the lovers just laugh it off — they've learned to ignore the gossip. Although Erin once had to spend an entire week promising to her family that when she gets married, they will hear about it from her and not from the newspapers.
"I've got a really nice life. I've been with my girlfriend for a decade pretty much. We're really happy."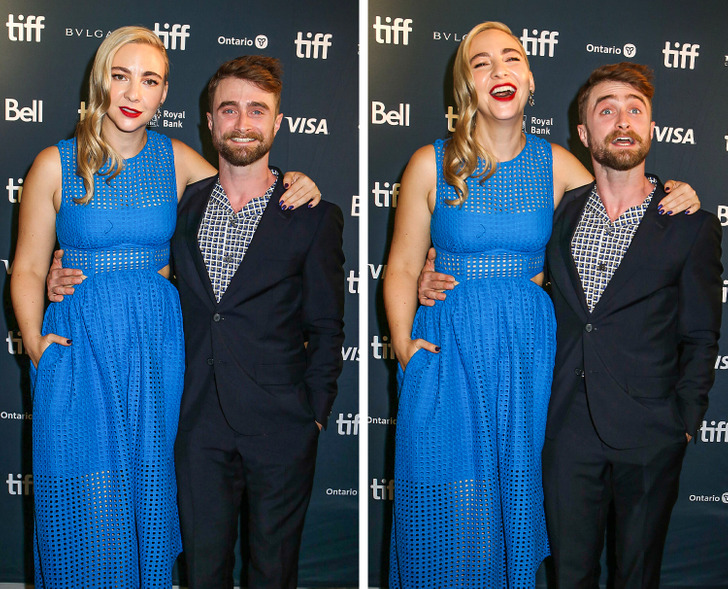 Isabelle Vautier / Starface / STARFACE PHOTO / East News
,
Isabelle Vautier / Starface / STARFACE PHOTO / East News
Daniel and Erin have been together for years, and their happy faces only prove that everything's going well for them. They don't do social media and rarely comment on their relationship. Maybe, that's the secret to true happiness.
Preview photo credit Isabelle Vautier / Starface / STARFACE PHOTO / East News
,
Isabelle Vautier / Starface / STARFACE PHOTO / East News
Cheery
/
People
/
Daniel Radcliffe Fell in Love With Erin Darke for Her Sense of Humor and Intelligence, and They've Now Been Together for 10 Years