"Grief Can Be Paralyzing, But I'm Learning How to Live Beside It." Bruce Willis' Wife Changed Her Entire Life to Fight His Illness
At the altar, couples swear to be together in sorrow and joy, in sickness and health. And of course, most hope to never actually experience these "sorrows" and "sicknesses." However, Bruce Willis' wife, Emma Heming, has had to face these problems.
Since the actor was diagnosed with aphasia and later with frontotemporal dementia (FTD), their lives have been turned upside down. Every day, she fights to reclaim her husband from the terrible illness, and is surprised when people call her a hero for doing so.
How their lives have changed
Emma Heming had wanted a family for as long as she can remember. And when her dream became a reality after her wedding, she fully immersed herself in the role of wife and mother. It was infinitely more important than her career. With Bruce Willis' illness, taking care of her family became her daily job.
The actor's wife reshaped her entire life to accommodate the new circumstances. "I put my family's needs above my own, which I found does not make me any kind of hero," she said in an interview. Fully immersed in the fight for her husband's health, at some point, Emma forgot about herself. This led to problems with her mental and physical health.
Emma began to search for new ways to live alongside the tragedy that had befallen their family: "My grief can be paralyzing, but I'm learning how to live along side it. As my step-daughter told me, grief is the deepest and purest form of love. I hope you find some comfort in that too." And Emma delved into the study of the problem. She read a lot about frontotemporal dementia and learned how to deal with it.
Eventually, she turned to doctors for advice on how to help her husband. Heming brought in a specialist in FTD who prescribed the right treatment for Bruce. According to the doctor, Emma did a tremendous job. She completely changed the space around the actor and adapted their home to his new needs.
The family's biggest problem became the heightened attention on the actor's condition. Whenever he appeared in public, journalists immediately surrounded him, shouting questions and taking photos. "If you're the one caring for a dementia patient, you know how difficult and stressful it can be to even take them out for a cup of coffee," Emma shared. The press's tactless behavior scared the actor even more.
Heming realized that this was unlikely to be avoided. Therefore, people needed to be taught how to treat Bruce properly. She appealed to journalists to keep their distance from their family, not to shout at the actor, and let him go for a walk calmly, which even without press interference was a difficult task: "Unfortunately, communication problems are just one of the symptoms of the disease that Bruce is facing."
The haters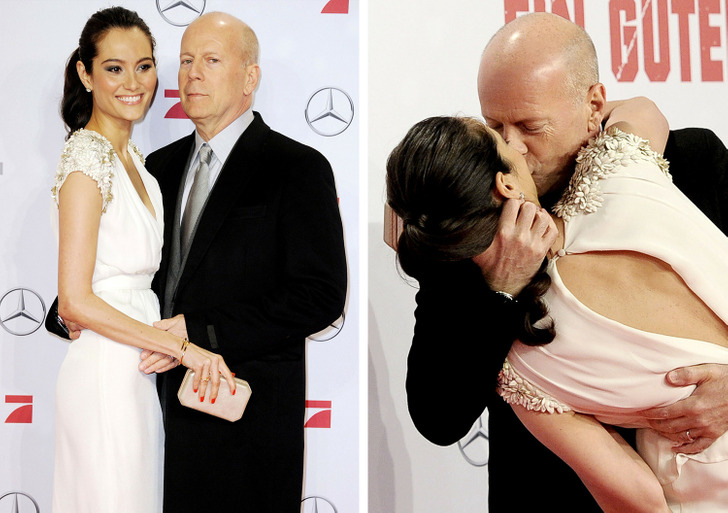 VIENNA REPORT / bauergriffinonline.com / East News
,
Adhemar Sburlati / Broadimage / East News
Emma Heming has devoted herself entirely to taking care of her husband. While some see this as selflessness and true love, others see it as an opportunity for self-promotion. Since the actor was diagnosed with his illness, his wife has been talking more about it on her social media accounts. Among her followers, there were those who interpreted this as being malicious.
The woman received dozens of offensive messages, claiming that she was promoting herself in the midst of her husband's suffering. These words hurt her, and she openly addressed everyone on her social media accounts. She said that she will always be her husband's main defender, and all the attention she receives while talking about his illness serves one big purpose.
A big goal
"I am gonna turn my grief and my anger and my sadness and do something good around something that feels less than." Heming said in her address. She has spent a long time studying the ways to treat her husband's illness, and today she is ready to share her knowledge with others. Since the media closely follows her and her family, she wants to use this attention for the greater good.
In numerous interviews, TV shows, and through social media, Emma talks about dementia, trying to raise people's awareness of this disease. It took a long time to diagnose the actor. Sometimes because of this, people cannot begin timely treatment for years. But the most important thing that Emma shares with the public is how to properly care for people who have been affected by this disease.
"FTD is a cruel disease that many of us have never heard of and can strike anyone," the Willis family shares. Bruce's current wife and ex-wife, as well as his 5 children from 2 marriages, have all come together in an effort to make Bruce's life better. They have chosen, as Emma Heming says, the path of fierce love and resilience. And they are ready to teach this to others.
Cheery
/
Health
/
"Grief Can Be Paralyzing, But I'm Learning How to Live Beside It." Bruce Willis' Wife Changed Her Entire Life to Fight His Illness