Why Gwyneth Paltrow Is Still Friends With All Her Exes, and Why Her Current Husband Is Happy About It
Gwyneth Paltrow often shares photos on Instagram of her with her ex-husband Chris Martin. The couple divorced back in 2016, but never even thought to break contact. They regularly get together at the same table with their new partners and spend time together with their kids.
If you think that the only reason for such a sensible separation was the ex-spouses' desire to not traumatize their daughter and son, you're deeply mistaken. Years ago, Paltrow learned the art of "conscious uncoupling," and today she's ready to teach others by her example.
How the actress broke up with her partners
Gwyneth and Brad started dating back in 1994. At that time, the young actress was only 22, while the actor was 31. The romance lasted three years. During this time, Pitt had become a part of Paltrow's family; her father thought of him as the future son-in-law and almost as his own son. The two were even engaged, but the wedding never came to be.
The actress later recalled that she simply wasn't ready for such a serious relationship. However, during the time they spent together, Brad became an important part of Gwyneth's life. They've been friends for 25 years now, and they're not shy about declaring their love for each other even today.
Almost immediately after breaking up with Pitt, Gwyneth started dating Ben Affleck. The actress' parents weren't thrilled with her choice, but they had to put up with it. This relationship also lasted three years, but it wasn't as smooth as the previous one. The two kept breaking up and getting back together.
They finally parted ways for good in the year 2000. And, as magazines reported, neither of them were heartbroken over it. But the pair got a second wind in their communication. They've been friends for 22 years now. And when the actor married Jennifer Garner, Paltrow found common ground with her as well.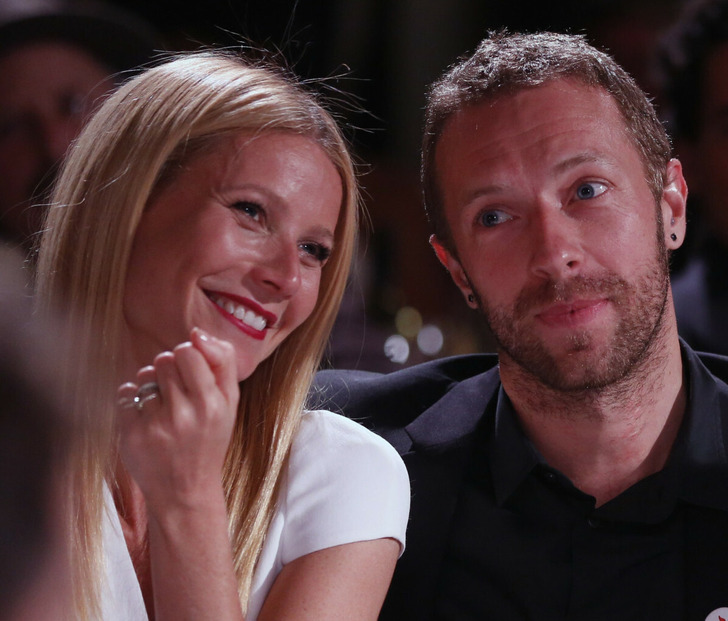 Colin Young-Wolff / Invision / AP / East News
Gwyneth met Coldplay frontman Chris Martin backstage at his concert in 2002. They started dating, and a year later they got married. A couple of years down the line, they were already the happy parents of two children. The musician said he'd won the lottery when this woman set her eyes on him! He'd never been in such a serious relationship before.
Towards the end of 2013, the couple spoke increasingly about the difficulties of their marriage, and the following year they announced their divorce: "It is with hearts full of sadness that we have decided to separate. We have come to the conclusion that while we love each other very much we will remain separate. We are, however, and always will be a family, and in many ways we are closer than we have ever been."
These weren't empty words, either. Gwyneth and Chris did stay in each other's, and their children's, lives. The actress said only good things about her ex-husband after their divorce, saying that he is family: "He's like my brother." And when she met her current husband, Brad Falchuk, Paltrow managed to help them become friends, too.
In time, Martin also made a new love connection with actress Dakota Johnson. Today, the two couples often get together at the same table, along with their children, and go on double dates. As for Falchuk, according to Gwyneth, he has no jealousy for his spouse's former partners. He respects their friendship. In addition, he's also making friends as a result. For example, he's become so close with Chris Martin that he even goes on holidays with him in the extended company of their families.
What is "conscious uncoupling"
Gwyneth and Chris's sensible breakup delighted many. The press called them a prime example of "conscious uncoupling", a term coined in 2009 by psychotherapist Katherine Woodward Thomas. The therapist had been writing articles on the subject of divorce and running training sessions for several years, but Paltrow and Martin's example gave her research a new momentum. In 2015, her book Conscious Uncoupling: 5 Steps to Living Happily Even After became a New York Times bestseller.
So what is "conscious uncoupling?" In essence, it's synonymous with amicable divorce. The therapist teaches participants to find a way to a friendly separation without dragging the baggage of broken past relationships for the rest of one's life. At first, when Thomas started talking about her method, she got a lot of comments like "Well, this only works for celebrities," or people saying that such lessons are only for married people.
In fact, the therapist believes "Conscious Uncoupling" helps people who have come out of an abusive relationship, or are heartbroken over the collapse of even a short-lived affair. Each of these examples requires one to work on themselves, so that eventually the person can recover properly, ending one chapter of their life before beginning the next.
How to learn to follow it, and most importantly, why
For those who want to learn, like Gwyneth Paltrow, to not harbor anger and resentment towards ex-partners, Thomas's book offers five steps for working on yourself.
One must learn to find the positive in the negative. For example, if an ex-partner does not appear in your, or your child's, life for many years? Consider it a success. After all, this means you don't have to deal with someone you dislike.
Everyone needs to accept and forgive themselves, first and foremost, for their own mistakes. Maybe you didn't believe in yourself enough, or tried too hard to prove your own worth. Only after realizing your mistakes will you have the chance to not repeat them in the future.
You need to understand what led you to make the mistakes that caused the breakup. The therapist claims that often these are childhood traumas which, if left unresolved, stop you from building a healthy relationship.
The fourth step can take a long time, as it's based on forgiving yourself and your ex-partner. However, as a result, you will build a foundation for all future relationships.
A fair division of property, and a fair distribution of time with a shared child. Each of these things has an impact on the relationship of former partners. Making a decision that all parties are comfortable with can be the beginning of a great friendship that will last a lifetime.
Have you ever managed to have an amicable breakup with an ex-partner? If so, how?
Cheery
/
Psychology
/
Why Gwyneth Paltrow Is Still Friends With All Her Exes, and Why Her Current Husband Is Happy About It