Avril Lavigne Has Been in Serious Relationships and Knows How to Remain Friends With Her Exes
Avril Lavigne wrote her first album when she was a teenager, and her songs were already about love. She continues to speak out about love in her work, but now she does it with her life experience. Lavigne was married twice and was able to remain friends with both her ex-husbands. Now, she doesn't worry about marriage and chooses to prioritize other things.
Avril supported Deryck Whibley after their divorce.
Avril became friends with musician Deryck Whibley at the age of 17. They started dating 2 years later, and when Avril was 21, they got married. Whibley even changed his last name to Lavigne. In 2009, after 3 years of marriage, they announced their divorce. The ex-spouses shared their feelings about the break-up in public statements. Lavigne wrote that she loved Deryck and they were breaking up on a positive note. As Whibley said, Avril would always remain a good friend of his. They are not the only couple that managed to remain friends after breaking up. There are more similar stories here or you can read about Brat Pitt and Gwyneth Paltrow and their experience.
Their kind words about each other turned out to be true, and they continued to communicate. Several years after the divorce, Avril said she was proud of Deryck, who decided to work on his bad habits. And Deryck attended Avril's concert with his mom. The singer said she was happy to see him, and she considered him her family (much like Bruce Willis and Demi Moore). In 2022, she was seen having dinner with her then-partner and Deryck.
Despite the rumors, she has a good relationship with Brody Jenner.
In February 2010, the public learned about Avril's romance with Brody Jenner. In July, paparazzi noticed that Brody had a tattoo with his beloved's name on his arm. The couple had been together for almost 2 years before they broke up. There were many rumors about the reasons for the breakup. Some linked it to the fact that Avril was advancing her career and touring, while her boyfriend was not doing anything but wanted to work again. Later, Brody stated that he was upset by these false stories. According to Jenner, Avril always supported him, and he loved her. In response to his words, Lavigne wrote that she loved him too.
Her second husband took care of her when she struggled with her health.
When she was working on an album, Avril met musician Chad Kroeger. They got engaged just 1 month and 6 days after the start of their relationship. Lavigne explained why everything happened to fast: "We bonded like crazy. It was like we'd known each other forever." They got married in July 2013.

Together, they had to deal with many challenges. When she was recovering from Lyme disease, she relied on the support of her family and he husband. Chad continued to record albums and tour, but she used every chance he got to spend time with his wife. And Avril said, "He's been very supportive."
But in 2015, Avril announced their divorce. She explained that they would remain friends forever and always take care of each other. Just like with her first husband, her words were more than just an announcement. In 2016, the ex-spouses appeared at the Junos Awards together. Later, Chad helped Avril record her new album and encouraged her to talk about their post-divorce relationship, "So he just cares about me and wants to see me do well, which is really nice."
She found love again but decided to move on.
After the second divorce, she went on to have other relationships. In 2020, after a difficult break-up, she wanted to be single, but she soon met Mod Sun. They started dating right away and the singer explained, "I just followed my heart."

In April 2022, Mod Sun proposed to Avril, and they made a party to celebrate the engagement. For a long time, fans thought they were a happy couple, but in February 2023, some magazines wrote that they canceled the engagement.
Avril doesn't worry about marriage and puts her happiness first.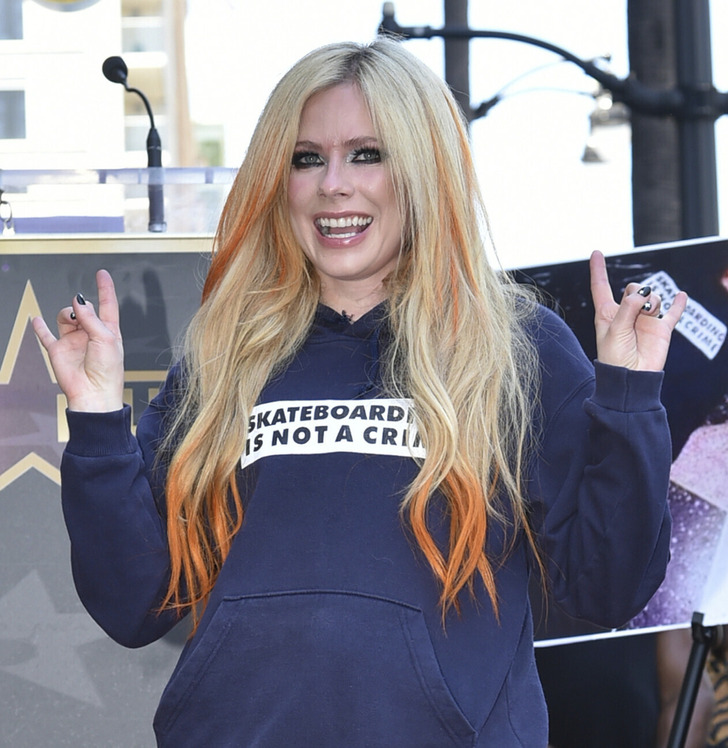 Invision / Invision / East News
Even before her engagement with Mon Sun, Avril shared her views on marriage in her interviews. She said that she might get married again, but she's not really worried about it, and she just wants to be in a healthy relationship and remain happy. She said, "Love is hard and relationships are not easy. It's not easy for anybody and I've now lived long enough to realize that I need to prioritize myself and take care of myself."
Cheery
/
People
/
Avril Lavigne Has Been in Serious Relationships and Knows How to Remain Friends With Her Exes