Adam Lambert Got Online Hate for Being Overweight. When He Revealed Why He'd Gained Weight, the Bullying Immediately Stopped
On the cover of his new album, High Drama, Adam Lambert appears surrounded by shards of glass. This picture, better than any other, shows what the singer had to go through before achieving success in his career. Psychological problems, haters, homophobia. Lambert's road to the top has been, to say the least, thorny. And now he has found the strength to tell his story to the public.
Life in a "bubble"
For a long time, Adam was unaware of how cruel the world around him could really be. He grew up in a family where he wasn't afraid to be himself. His parents were fully accepting of their son's flamboyant style and personal life choices. Lambert's friends were all creative people — he called them "artists, weirdos." About the time before American Idol, he said, "I was very comfortable and secure with who I was."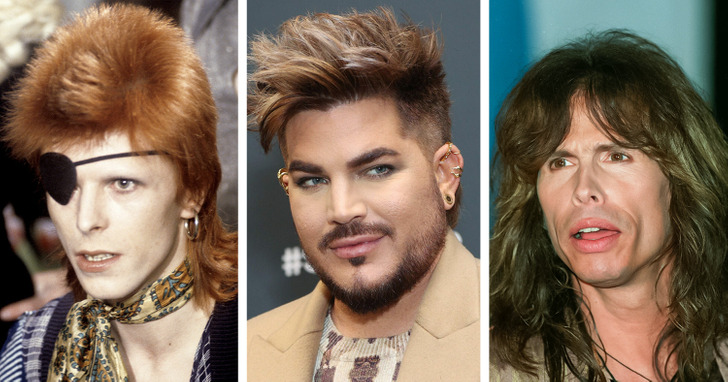 MediaPunch / face to face / East News
,
JA / Everett Collection / East News
,
Mary Evans / AF Archive / Graham Whitby Boot / East News
He became inspired by the freedom of creativity and self-expression from a young age when his father showed him his own record collection. The stage presence of Madonna, David Bowie, Michael Jackson, as well as Queen and Aerosmith, fascinated him. He watched how the stars combined music and their vivid personalities into a single show, learning all he possibly could from them. "I wanted to express my gender and artistic identity differently than the mainstream. Bowie was a key inspiration," Lambert said.
How American Idol nearly broke him
Lambert burst onto American Idol's eighth season with a spectacular performance of Queen's "Bohemian Rhapsody." And he stunned the audience with his voice and his unusual stage presence over and over again. The flamboyant singer received high praise from the judges, his vocals were described as immaculate, and his performances as some of the most memorable in the history of the show.
"If you are not in the final next week, it will be one of the biggest upsets," Simon Cowell said to him. And the following week, he wasn't disappointed.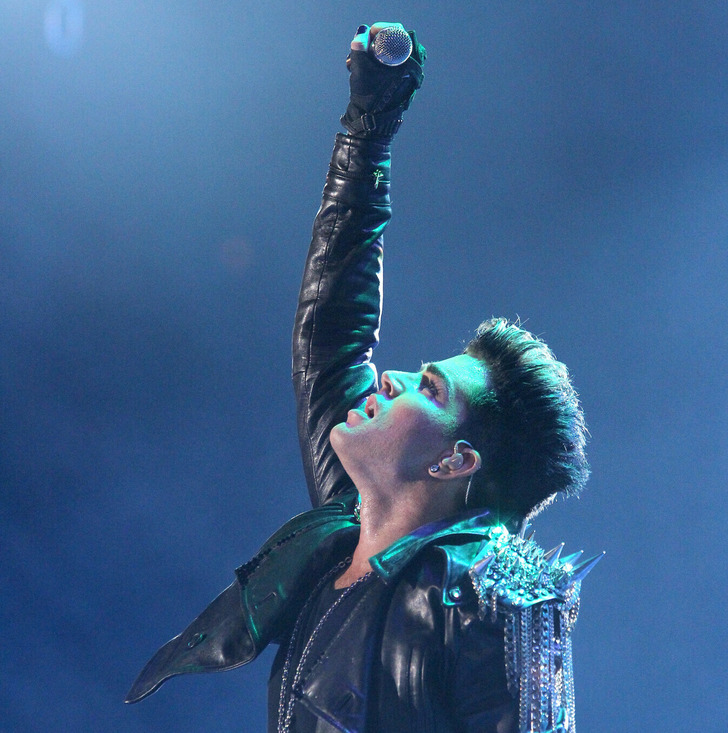 Jan KUCHARZYK / East News
Lambert says he never hid the fact that he's gay. But the TV show didn't ask, so the public was kept in the dark. And why should they really care? After all, this is a singing competition! But the reality didn't confirm the young artist's expectations. Two months before the final of American Idol, photos of Lambert kissing a man at a festival leaked online.
A wave of criticism and negativity crashed over Adam. But despite the scandal, the singer continued to appear on stage. At the American Music Awards, as if to spite everyone, he went up and kissed his bass player. ABC received about 1,500 complaints about this and Lambert's performances started to get canceled. "But they showed Madonna and Britney Spears kissing [on the 2003 MTV Video Music Awards] without any censor. It was such a double standard," he complained.
"There were no gay guys. It was kind of the Wild West in terms of that." That was Adam's experience of the world of showbiz. To provoke the haters, he started making scandalous stage appearances more and more often. For this, he regularly received various threats, including legal action. Be that as it may, Lambert did make it as a finalist on the show, taking a respectable second place.
After all the hate he received from the press and the Internet, the singer made a firm decision about his future. He promised himself to do everything he could to make a difference for the LGBTQ+ community in the music industry and beyond: "I'm going to be as gay as I can be, and be flamboyant, and be wild. And if it gets me into trouble, it gets me into trouble, but I'm not going to back down from it."
The price of fame and success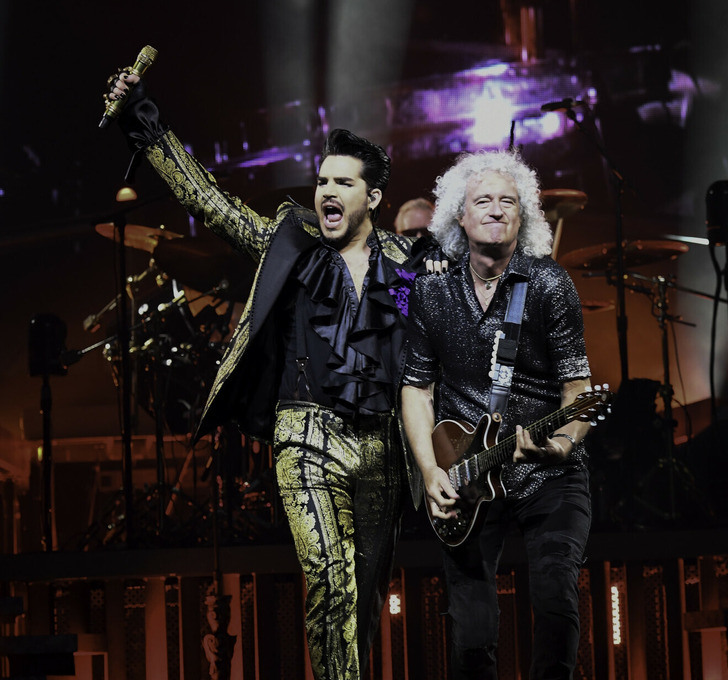 Ron Elkman / Sipa USA / East News
And so Lambert began his great fight. He became the first openly gay man to have an album debut at number one on the Billboard 200 chart. And in 2011, he achieved the near-impossible — he was invited to become the vocalist for one of his own favorite bands, Queen. Together, they went on tour after tour, and in 2022, they even played at Queen Elizabeth II's Platinum Jubilee.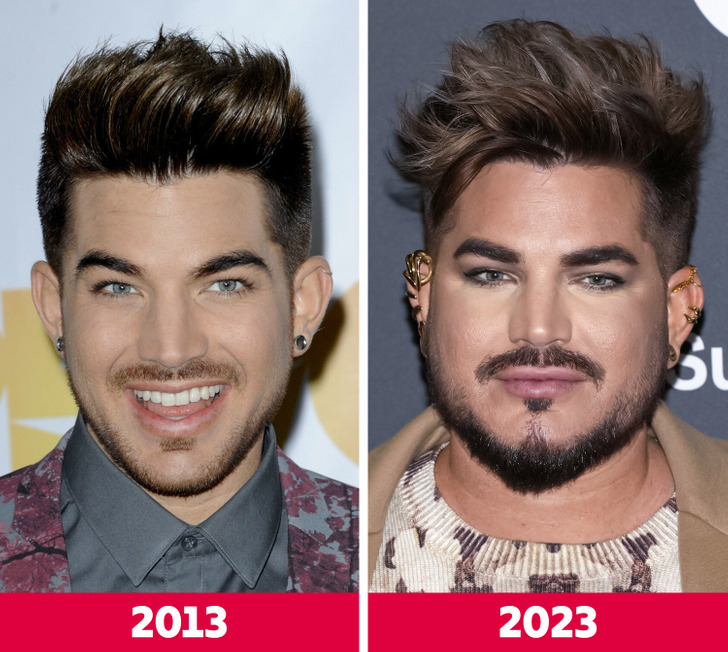 Elizabeth Goodenough / Everett Collection / East News
,
Charles Sykes / Invision / East News
However, despite success in his career, the singer was still going through a whirlwind of emotions. Like many other artists going through similar experiences, he developed mental health problems, which took a lot of time and effort to treat. Medication helped Adam with anxiety and depression, but it also affected his weight.
In 2023, the singer released a music video for "Holding Out for a Hero." And, once again, faced criticism: "A fair number of people were like, 'Whoa, he got fat', [but] you never know what someone's life looks like behind closed doors or what factors have led to changes in people's bodies — so keep [the criticism] to yourself." Many famous people face such negativity, and Adam was no exception.
To be an artist in this time
After American Idol, when Lambert promised himself to do everything he could to change the lives of the members of the LGBTQ+ community, he wasn't joking. Similarly to his like-minded colleagues Elton John and Ricky Martin, the singer uses his popularity to aid in projects aimed at helping these people. Over the years, he has participated in dozens of campaigns, raising awareness in the press for important issues that many people don't want to talk about, like bullying at school.
And later, he set up the Feel Something Foundation to fight for LGBTQ+ rights. He dreams of "abolishing 'coming out' as a term used to define someone simply being themselves."
Adam Lambert recently starred in Fairyland, a movie about a single father fighting for gay rights. Speaking to the public, the singer said, "I'm so thrilled to be an artist in this time and we have a lot of challenges in front of us. It's not over yet. There's still work to be done, but I am just so proud of the work that's been done so far."
Preview photo credit Elizabeth Goodenough / Everett Collection / East News
,
Charles Sykes / Invision / East News
Cheery
/
Music
/
Adam Lambert Got Online Hate for Being Overweight. When He Revealed Why He'd Gained Weight, the Bullying Immediately Stopped